Growing up in Yamba and watching her 'pop' working raw timber into fine tables and chairs and intricate toys Maritimo's Sarah Skinner knew her future would involve woodwork.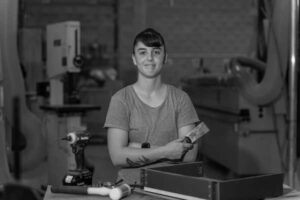 Fast forward to 2022 and the first year cabinet maker at luxury boat manufacturer Maritimo is living her dream. Next month she finishes her first year of a four-year apprenticeship in cabinet making having joined Maritimo early last year. She originally applied for an apprentice boat building position, but then moved into cabinetry when the opportunity arose, fulfilling a lifelong dream.
"I would watch pop working with timber in the shed when I was little and I was always enthralled by it," said Sarah.
"He made chairs and tables and really intricate wooden toys for us, so I was always interested in working with timber.
"To be in the cabinetry team at Maritimo is fantastic and enables me to use my skills along with my team mates to create the beautiful finishes in the Maritimo motor yacht range.
"It is often hard and intricate work, and you have to really concentrate, but the end product is absolutely worth it and gives you a sense of pride when you see one of the motor yachts come out of the factory in a finished state."
Sarah said she thoroughly enjoyed the working environment at Maritimo and the friendship amongst her workmates.
When she is not at work, she loves to go spear fishing off Yamba.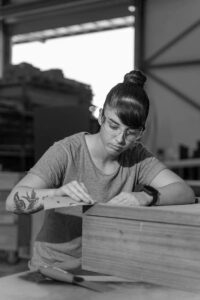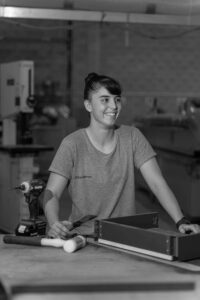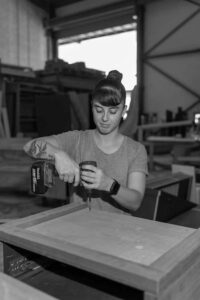 She is also a passionate and successful soccer player, having played since she was five years old, to winning the Brisbane Women's Premier League's Golden Boot Award in 2021 with 24 goals. Sarah plays with the Robina side in the competition which is held between Maroochydore and the Gold Coast.
While Sarah's family are still in Yamba she has made a home for herself with her partner in Labrador.
"I get home as often as I can, but the COVID lock downs have made that impossible for the past year or so," she said. "It has been hard."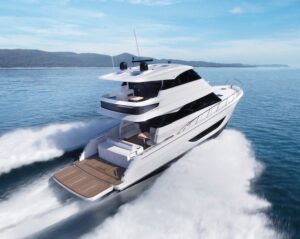 Sarah said her favourite Maritimo was the new M55 motor yacht which she says 'looks incredible and was a thrill to work on'.
She said starting next month, when she will be a second-year apprentice, her apprenticeship will see her attending TAFE for about three days each month.
She says she plans on being with Maritimo a long time.
"If you are prepared to put a lot in and work hard then you are rewarded really well," she said.
"The interaction with the management team and my fellow workers is what really makes it special.
"They all know each of us by name and they are always ready to stop and have a chat with us when they are in the factory.
"It really makes it a great work environment and makes you feel appreciated."
Maritimo's General Manager, Phil Candler, said the company placed a great deal of importance on meeting and exceeding customer expectations and Sarah was a very important element in that process.
"She has a great eye for detail and works really well with the team in cabinet making".
Maritimo is one of the Gold Coast's largest employers with more than 200 staff. The company has forward orders for its motor yachts stretching into late 2024, and 2025 for some models.
"It is passionate and skilled employees like Sarah that help make Maritimo what it is today, and we are always looking for more people like Sarah to come and share the Maritimo dream," he said.
To find out more about career opportunities at Maritimo head to their Careers page.