On the water as in life, Admir and Branka Surkovic complement each other. Branka's adventurous spirit sees them seeking far horizons, while Admir, with his technical background, brings the practicality required to get there.
Based in Massachusetts and Florida, USA, the Surkovics have recently acquired a Belize 66 Daybridge. In Luna, they have discovered a magical motor yacht that meets Admir's exacting technical standards and also inspires a sense of wonder in Branka.
"The Belize 66 was the only motor yacht that checked all the boxes, with the design and looks that we both liked," says Admir. "We were looking for an elegant, functional, seaworthy design that was modern, but not too modern."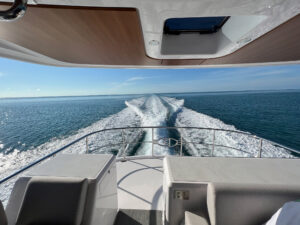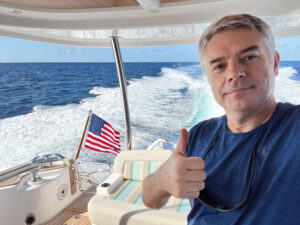 "It has a similar, seaworthy hull and other positive attributes of our previous boat that we loved, but in a more modern package, with all the features that we wanted, including the beautiful flybridge. It is well-built and everything is substantial; from the hardware to the joinery to the way space is used, everything has been thought through."
"It's a no-nonsense design, with no bells and whistles just for the sake of it. The build quality and the workmanship are very apparent as soon as you walk in; it all speaks for itself. A Belize has a level of finish that is way above most of the other boats that we have seen."
"All of the systems are of the highest quality; from the well-configured CZone system, electronics, entertainment, watermaker, top-quality appliances, plenty of refrigeration, a large generator, gyro stabiliser, shore-power transformer, built-in redundancies, networking, remote monitoring, and so on. There isn't a single thing that I would change."
The first time I saw the Belize it was instant love. - Branka Surkovic
Admir had one more consideration. "Noise levels – it had to be very quiet inside. The Riviera team was happy to customise the build for us and add more soundproofing material to what was already a very quiet running yacht. Luna has a super-quiet stateroom with almost zero 'hull slap', and minimal engine noise while underway, making it even more comfortable for the longer trips and longer stays on board."
For Branka, the feeling was more visceral. "The first time I saw the Belize it was instant love," she says. "The design of the boat is so very beautiful; I formed this long-lasting romantic attraction to its modern but still timeless design. We knew that was our boat. It was so inviting, light, airy, and open."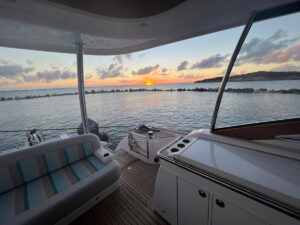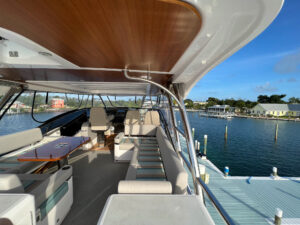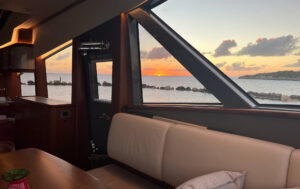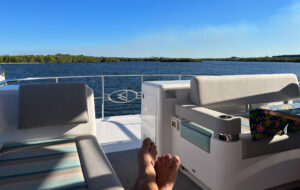 The instant attraction to the Belize 66 Daybridge lies in her inviting appeal, enhanced by the open design.
"I also loved the galley, because I love to cook, so for me it was important to have a well-sized galley with all the modern appliances with easy access to everything. The cabinets are beautifully designed and there's an incredibly spacious feeling from the windows and the alfresco dining areas."
Seemingly sold on the Belize after the sea trial, the Surkovics had one concern: could they handle a motor yacht of this size?
"We needed to upsize to a boat that was big enough to accommodate all of our guests and family, while at the same time it needed to be manageable when it's just the two of us. We had to make sure that we could handle her, especially when docking," says Admir.
This is when Admir's checklist of essential items came into action, a list he admits was far longer than Branka's. "Volvo IPS and joystick control is something I wouldn't go without. The Belize 66 has four joystick stations that make it much easier to dock and manage, and they're well-positioned controls. Another huge inclusion we had custom designed is a side door at the lower helm station so that I can quickly get out to grab a line or help with anchoring. The CZone system also makes it straightforward to monitor and control electrical systems. We also have a fantastic Custom Belize anchoring system and the Garmin equipment is superb; altogether we have five screens, three in the flybridge and two at the lower helm."
Admir had one more consideration. "Washing the boat; the cleaning and the upkeep. The Belize has a built-in pressure washer and it takes less time, is more water efficient and is easier to wash down than the 45-footer; it's fantastic! Also, we have the ultimate luxury item, a watermaker. If we're on a longer cruise and at anchor, we can make good quality water and wash the boat down well."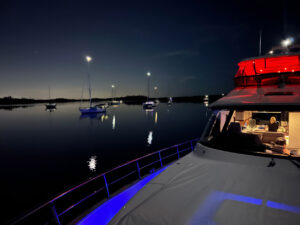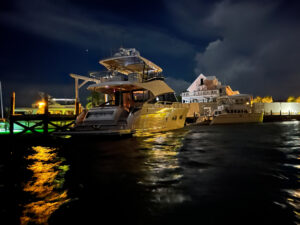 Night-time silhouettes of Luna, a motor yacht that accommodates the Surkovics, their family and friends in comfort and luxury.
The shakedown cruise, unequivocal love
Due to insurance requirements, the Surkovics hired an experienced captain for the 12-day shakedown cruise … to the Bahamas, no less.
"It was a tremendous help as we learned to become even more self-sufficient," says Admir. "I'm very much hands on and involved in the technical aspects. It was an intense itinerary because we wanted to try challenging areas and situations in the interest of acquiring experience and learning about the boat and what it's capable of, as well as figuring out our capacity on it. Mission accomplished. The trip confirmed what we had expected from the Belize; it had delivered no surprises and we learned that we can handle her, just the two of us, thanks to the systems and the way it's designed."
Admir says the obvious choice was to visit the Abacos, the boating capital of the Bahamas. Crossing the Gulf Stream has to be timed within the right weather window. Luckily, they scored the perfect weather for an easy 150-mile crossing completed in a day.
"Our opportunity to experience a turquoise sea gently lapping onto its shores, picture-perfect stretches of sand and deserted areas was extremely rewarding," says Branka. "We felt very privileged and humbled. The Bahamas is pure beauty from beaching, snorkelling, diving, hiking and bird watching to water sports. Exploring the Bahamas, its culture and the people is unique." Their first stop was a quiet marina at Spanish Cay, where they checked in. Then it was on to Hope Town in Elbow Cay, with its shallow harbour entrance to navigate. From there they cruised to Marsh Harbour before returning north-west to Orchid Bay Marina and Green Turtle Cay.
"A boat takes a lot of care, ongoing maintenance and understanding," says Admir. "You can't just live the good moments; the most important thing for a boat owner is that you really have to love your boat. I design products for a living and so understand what it means to put your heart and soul into something to make it work right. A Belize is really one of those products you can tell someone has put their heart and soul into.
"It was amazing," adds Branka. "I'd already formed a long-lasting love for this Belize, and we found that it does everything we wanted, and more. For me, being out on the water is always uplifting, calming, inspiring, joyous and magical. On this boat, I felt safe and so I could really enjoy it. It was a great experience, a great moment. Cruising is the best way to see the world. I love to travel and now imagine what it's going to be like on the Belize! It's really exciting. To quote Murakami, 'Every one of a hundred thousand cities around the world had its own special sunset and it was worth going there, just once, if only to see the sun go down.' When people ask me which has been my best trip, I say that my best trip is the next one."