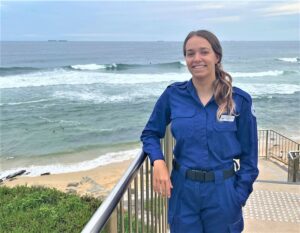 It's Youth week, a time to celebrate the contribution that our youth members make to Marine Rescue NSW and their community. Today, meet Marine Rescue Newcastle volunteer Sarah Green Goldberg.
Late in 2020, Sarah Green Goldberg decided to join a volunteer-based organisation to help out her local community and to get to know more people, and decided upon the local Newcastle Marine Rescue unit.
"I like the ocean," said Sarah, "and I wanted to learn more skills, so the local Marine Rescue unit seemed like a great fit."
"Since joining, I'm absolutely loving it, and it's great to be gaining something with the knowledge and friendships I've acquired, while giving something back to the community."
Sarah said that even though she gets a little sea sick making it not practical for her to go out on the water, there were still plenty of things for her to get involved in.
"I've nearly achieved my qualification as a Radio Operator, and I have been helping out with the fundraising as well", Sarah said.
"The unit culture is great, and being a smaller unit, everyone helps each other out, creating a great sense of camaraderie."
Sarah said what she enjoys most about volunteering at Marine Rescue is how grateful people are when you help them.
"As part of my training, I was working with another Radio Operator when a call came in from a man and his dog on board a yacht that broken down. The man was quite panicked, and it was great to see what a great job the other operator did in calming him down and organising for help to get to him, and how grateful he was for our assistance."
Being the youngest volunteer at the unit has not fazed Sarah, although it did surprise her friends when she joined.
"There's a perception out there that Marine Rescue is just for older people", said Sarah."But there's plenty to offer volunteers of all ages, and I'm working on getting my friends to sign up too!"
"I really enjoy being a Marine Rescue volunteer, it's a community in itself, and like a big family. I'm always learning something new and I'd recommend it to any young volunteer wanting to do something for their local community."
Find out how you too can become a volunteer for Marine Rescue NSW.