Ocean Media is celebrating a publishing milestone – the 100th issue of the internationally respected and widely-read yachting magazine Ocean.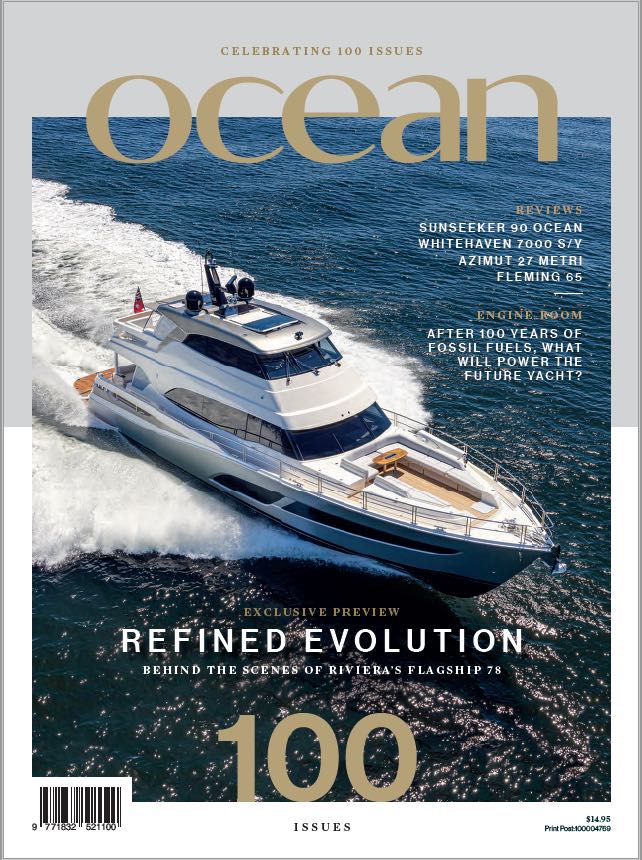 "This achievement is testament to the loyalty of our advertisers and partners, and our commitment to quality journalism as we search the globe for original stories told with enthusiasm and authority," says Founder, Managing Director and Editor-in-Chief Hillary Buckman.
Launched amid a sea of boating titles in 2005, Ocean magazine was unique from the start. "There were many established publications when we launched," says Buckman. "But I could see the demand for a high-end title and was determined to offer something different. Those familiar with Ocean and the brand know the dedication of our team, as well as our passion for the yachting industry."
"With deep regard for the innovators, leaders and pioneers in both small business and the
large companies across every segment, Ocean reflects the accomplishments of a vibrant and diverse industry," she adds. "Across 100 editions, the pages of Ocean have brought to life the many joys of the on-water lifestyle in all its forms for aspiring and seasoned owners alike. I'm proud of these achievements and of the evolution of Ocean."
Conceived at the 2004 Sanctuary Cove International Boat Show (SCIBS), Ocean #1 was launched exactly one year later at the 2005 show with a specific market in mind. "We focused on content and advertising for a high-net-worth readership, including prestige products and automotive and travel features to provide a complete lifestyle destination," explains Buckman.
It was a bold move, but one that has definitely paid off. "The success of Ocean is reflected in the rise of the industry in Australasia and the hard work and dedication of many to ensure we are a world-class boatbuilding, refit and charter destination," she says.
That's not to say there haven't been significant challenges along the way. "The global financial crisis hit the industry hard and the pandemic forced many print titles under," Buckman offers. "But Ocean has remained strong thanks to its loyal readers and advertisers, and a talented team that includes Michele McCamley, Advertising Director, who has been with Ocean Media for 12 years."
It's a feat that has not gone unnoticed by the industry. Rebecca Gay from Gold Coast City Marina and Shipyard notes, "Ocean has rightly earned its place as one of the most highly regarded boating publications in Australia and around the globe."
Rob Mundle OAM, yachtsman, maritime commentator and author, goes one step further, saying, "Ocean is now superior to anything coming out of Europe or America."
High praise indeed – the result of Buckman's passion for all kinds of boating and the calibre of the relationships she has built across the industry worldwide, which shines through on every page.
As Riviera Brand and Communications Director Stephen Milne notes, "A dedication to excellence while passionately supporting the luxury motor yacht industry has positioned Ocean magazine as a strong voice in Australia and beyond."
Mitch Pachoud of Pachoud and Voodoo Yachts concurs, saying, "Ocean magazine consistently represents the latest and greatest in design, build and technology for the luxury yacht and superyacht markets."
No less, Ocean continues to lead through prominent event and media partnerships which include Australia Sail Grand Prix | Sydney, the Sanctuary Cove and Sydney International Boat Shows, the Monaco Yacht Show and the Cannes Yachting Festival.
And, with the launch of the Ocean Club Concierge – where a private lifestyle manager assists owners with corporate gifting, travel, restaurant and luxury charter bookings and more – Ocean is now unrivalled in the luxury on-water lifestyle space.
So, where next for such an iconic brand? Buckman says she has many more ambitions
still to fulfil and while we may have to wait for more details, she will share that she is confident of a strong future for both the magazine and the industry.
"While 100 issues is an excellent opportunity to look at how far we have come, I'm driven by where we're headed – the world of yachting is constantly innovating and, in the same way, the next 100 issues of Ocean will adapt and expand.
"We invite you to join us as the Ocean journey continues to unfold."
Ocean magazine
Occupying a coveted position in a niche industry and market, Ocean magazine is the flagship publication of Ocean Media, the media authority on luxury yachting and lifestyle throughout the Asia–Pacific region. With incisive news and reviews, comprehensive editorial features and exceptional design and photography, Ocean magazine boasts industry-leading journalists from across the globe.
The Ocean magazine experience extends beyond print to a complete online and social presence full of constantly refreshed news and features, including OceanTV, as well as an exclusive events and concierge service. Exciting local and international partnerships include the Sanctuary Cove and Sydney International Boat Shows, Australia Sail Grand Prix | Sydney, the Monaco Yacht Show and the Cannes Yachting Festival.
Ocean Media
Established in 2005 as a boutique publishing house, Ocean Media has grown into a progressive media company focused on bringing the highest-quality journalism to the premium Australasian yachting industry.
From the flagship title Ocean magazine and the Great Southern Route Superyacht Guide – now in its fourth edition – to Sails magazine and a comprehensive online and social presence, Ocean Media's expertise and knowledge are unrivalled in Australia and New Zealand.
With established relationships with marques, boatbuilders, captains and owners, Ocean Media has built a connection with the boating audience and clientele that continues to evolve and surpass expectations with an exclusive SailGP partnership and events as part of the Ocean Club and the Ocean Club Concierge service.
Ocean Media is the complete luxury lifestyle yachting experience on and off the water.