Australia fully reopened its international borders to vaccinated travellers in February this year, after remaining closed for pandemic reasons for almost two years.
The reopening, coupled with the easing of COVID-19 restrictions and a sense of normality returning, has ignited pent-up demand among tourists wanting to get back to the land down under and discover the hidden gems on offer.
It's no secret that Queensland's cruising grounds are unrivalled. From the world's largest sand island in K'gari (Fraser Island) to the Great Barrier Reef, there's plenty of destinations to add to your list when you choose to cruise along Queensland's coastline.
Rivergate outline the top destinations to visit when cruising the waters of the Sunshine State.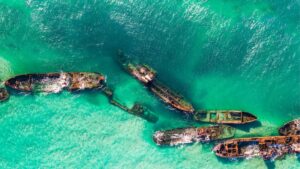 Moreton Bay
Considered to be one of the east coast's best kept secrets, Moreton Bay extends from Caloundra in the north to the Gold Coast Seaway – featuring 3,400-square-kilometeres (1,313-square miles) of tranquil waterways.
Visitors flock to the region for its all-year round warm waters, which are perfect for snorkelers and scuba divers wanting to explore the submerged shipwrecks and reefs in Tangalooma.
To learn more about exploring this hidden gem, read our latest Moreton Bay blog here.
Lady Musgrave Island
Spanning 14 hectares, Lady Musgrave Island is a coral cay located on the Great Barrier Reef. For those with a keen interest in marine life, there's plenty of opportunities to spot Humpback Whales, swim with turtles and catch a glimpse of glorious seabirds like the white-capped noddy and black-naped terns. If you choose to strap on the snorkel and flippers or scuba tank, you can also soak up views of tropical fish, vibrant coral formations and stunning, crystal clear waters.
Superyachts are allowed access inside the island's reef, so there's opportunity for you to anchor in the region's only coral island.
Fraser Coast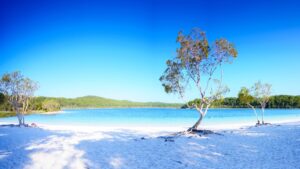 Known for being a relatively quiet, undisturbed sailing location with minimal restrictions, the Fraser Coast is a not-to-be-missed cruising destination. The region is home to iconic locations such as K'gari and Hervey Bay, so it's best to allocate a few days to explore the region so you can soak up everything the area has to offer.
Some of the top things to see and do in the region include swimming in the crystal-clear waters of Lake McKenzie, embarking on a 4WD sand safari on the region's beaches and fishing off the flats of Hervey Bay.
Whitsunday Islands
The Whitsunday Islands were made for luxury cruising. The sub-tropical climate and calm waters allow travellers to make the most of the countless reef and dive spots and sandy white beaches that make the Whitsunday Islands an internationally renowned travel destination.
Comprising of 74 islands in total, there's little chance of growing tired of everything the region has to offer. Swim with the turtles, sail around the Great Barrier Reef or get above the clouds to catch a glimpse of the Heart Reef in a sea plane to make the most of this awe-inspiring part of Queensland.
Cairns
Beautiful, tropical Cairns is the gateway to some of the best cruising destinations in Queensland. Whether you decide to venture north to Port Douglas, Palm Cove and Cape Tribulation, or south to the iconic Great Barrier Reef, the options are limitless when you visit Cairns. However, the city itself shouldn't be discounted as a tourist destination. Indulge in a quick day trip to Fitzroy Island or take a break from ocean life altogether and explore the region via helicopter or skyrail.
Want to learn more about cruising in Cairns? Our friends at Superyacht Australia have provided a comprehensive superyacht guide for Cairns and the Great Barrier Reef region, which you can access here.
Looking for more information? Rivergate have a comprehensive visitor guide for international visitors wanting to learn more about Australian customs, or who simply are looking for information about cruising in and around Brisbane – home to Rivergate Marina and Shipyard. As the official Customs and Quarantine Clearance Port for Southeast Queensland, visitors can cruise to areas like the Whitsunday Islands in just three days, and the Great Barrier Reef in two. You can access this information here.