Australian luxury motor yacht builder, Riviera, has celebrated the premiere of three new models at the 2022 Sanctuary Cove International Boat Show.
Riviera showcased 12 models, representing half of the company's diverse range of 24 motor yachts from 39 to 78 feet, in its largest display for 2022 and the only one for Australia this year.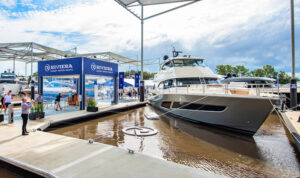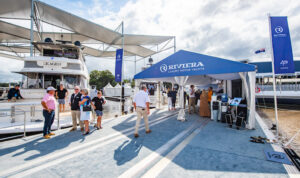 Boating enthusiasts, for the first time, stepped aboard the adventurous new 465 SUV, the magnificent flagship 78 Motor Yacht and the stylish and sophisticated 4600 Sport Yacht Platinum Edition, which were accompanied by a superb range of models from the Sports Motor Yacht, Sport Yacht, SUV and Flybridge collections.
"Our team were proud to host three new model premieres; the 78 Motor Yacht, 4600 Sport Yacht and the official reveal at 9am on the opening day of the show, the exceptional new 465 SUV," said Riviera owner Rodney Longhurst.
Riviera welcomed many current owners and new owners to the Riviera family at the show with their purchase of yachts from right across our 24-model collection. Many owners were actively involved with the comprehensive boating education program and enjoyed a number of fun-filled social events as part of our exclusive Riviera Festival of Boating, held on our display at the show.
"On Friday night, Riviera owners enjoyed the hospitality of the Riviera Sunset Bar aboard The YOT Club, located within Riviera's impressive showcase."
The Festival of Boating program this year comprised more than 34 hands-on boating education events, where Riviera owners enhanced their boating knowledge through special on-water workshops and off-water seminars, further elevating their boating enjoyment with Riviera.
The pinnacle of the Festival of Boating program was the gala event held at the Gold Coast Convention and Exhibition Centre, Broadbeach, in the heart of the Gold Coast's entertainment precinct. The evening was a celebration of the 42-year evolution of Riviera with a unique history-rich four-decade documentary presentation, superb food, music, and entertainment from Australian music legend Glenn Shorrock and the Little Riviera Band. The event brought together more than 550 Riviera owners, their families and friends.
Riviera owners praised this year's Riviera showcase and Festival of Boating program
Proud Riviera owners Jeremy and Pippa Batten rarely miss a Sanctuary Cove boat show and always appreciate the extensive program of educational workshops and social events at the Festival of Boating.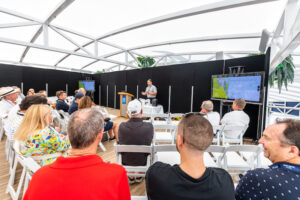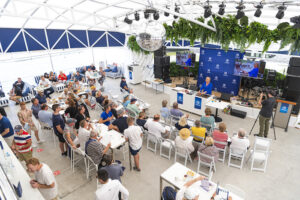 "We like to attend as many of the workshops as possible every year," said Jeremy. "For Pippa and I, this is a special weekend away, so we like to make the most of it. The content at the workshops and educational courses is fantastic and Riviera always brings new things to the table every year for us to learn and enjoy. Pip especially loves the cooking with Sally Jenyns."
Jeremy describes the Riviera Festival of Boating as a big family reunion where Riviera owners reunite, meet new yacht owners and catch up with old friends. "Everyone is in Riviera mode, in one place, excited about what they see and excited to talk about the Riviera journey. The Festival of Boating is a phenomenal event for owners. Riviera are leaders at creating the ultimate customer experience that I think is the best of any company globally."
After taking ownership of a Riviera 395 SUV in December last year, the Queensland couple is now looking forward to delivery of a new Riviera 4600 Sport Yacht Platinum Edition.
"We fell in love with the 4600; she ticks every box for us, from the luxury finishes and full headroom below deck to the entertainer style of boating she offers. Riviera just gets what yacht owners want and they deliver above and beyond. Their team does this by asking and listening to new and experienced yacht owners. Riviera keeps changing and evolving and that's credit to the entire Riviera team, but seeing Rodney Longhurst at the boat show and speaking with him, you can feel his passion for creating exceptional boats, the ultimate customer experience and a true Riviera family culture."
Kiwis enjoy A Night at the Roosevelt
Kiwis Jamie and Debbie Colquhoun enjoyed an extended weekend of social events at the boat show, beginning Friday evening with A Night at the Roosevelt organised by Riviera's New Zealand representative R Marine Flagship exclusively for Kiwi Riviera owners visiting the show, with over 80 in attendance.
"It was an amazing way to meet other owners from New Zealand in a relaxed social setting," said Debbie. "We knew many of their boats by name, but it was great to meet the people who own them. Now we're looking forward to joining them on the water when we get back home to New Zealand."
The Colquhouns are proud owners of a Riviera 47 Flybridge and the boat show also was an opportunity to step aboard the latest Riviera model range, while taking time out to relax aboard The YOT Club. The couple is now dreaming of a move up to a new 50 Sports Motor Yacht which they plan to use for luxurious weekend escapes and extended stays aboard.
"The 50 Sports Motor Yacht is perfect for our style of boating," said Debbie. "She's a great all-rounder as we love fishing, diving and socialising or just cruising up the Bay of Islands for some adventures and relaxation."
Getting the most out of Riviera boating
Mike and Naomi Lipscombe immersed themselves in the program of social events and educational workshops across three days of the boat show.
"We enjoy getting out on the boat as a family but there's always room to learn more so that we can get the most out of our boating," said Mike.
"We participated in quite a few courses during the show while also enjoying social events like the cocktail party at the Riviera Sunset Bar. Naomi loved the cooking demonstrations and the ladies skipper course, and I took a lot away from the workshops on offshore skippering and Garmin navigation systems. I was blown away with the capabilities of this technology aboard Riviera boats."
Mike said his family was very much looking forward to taking delivery of their new Riviera 545 SUV.
"Our first Riviera was a 445 SUV and, with a family of five, the extra cockpit space will allow us to better handle the kids and their friends," said Mike. "I enjoy fishing and the 545 SUV is a great crossover boat for us at the moment. We have plans to take a trip up the Queensland coast to Hamilton Island in October and November."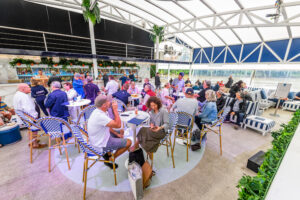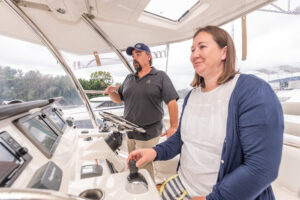 Inspiration for an extended cruise
Michele and Ross Simpson, from New South Wales, have owned a Riviera 43 Open Flybridge for the past three years and are looking forward to delivery of their new Riviera 50 Sports Motor yacht later this year. The Festival of Boating provided an ideal opportunity to enhance their boating education as they consider an extended cruise up the east coast of Australia on their new motor yacht.
"Ross went to as many workshops as he could and learned so much; he enjoyed every single one, from learning about Garmin radar systems to navigating at night. I enjoyed the galley segment with a very entertaining presenter. The tips on food longevity and storage were very useful," said Michele.
"We spent a month on our boat in Queensland last year and we're really looking forward to taking a trip up the coast in our new 50 Sports Motor Yacht. We normally boat around Port Stephens and Ross loves to fish, so the 50 SMY will be perfect for the longer trips."
Michele described Riviera's gala night as 'exceptional'. "It wasn't 10 out of 10 – the gala night was 15 out of 10. The music, the food and the documentary videos and presentations throughout the night taught us a lot about Riviera and how the company has evolved over the past 42 years," she said.
Mr Longhurst said: "Riviera's four-day extravaganza this year created many memorable celebrations and special moments for Riviera motor yacht owners at Sanctuary Cove Boat Show 2022."