On the 16th and 17th of May over 2,000 secondary school girls from across the state were introduced to the Boating Industry Hub at the Trade Fits girls career expo at Melbourne Convention and Exhibition Centre.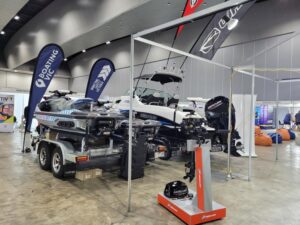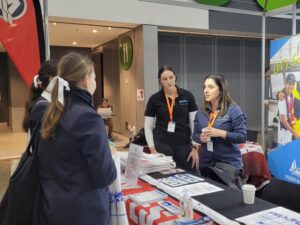 BIAV's Mary Papantoniou lead the boating hub along with Aussie Boat Sales (Dani O Hare's daughter – Bridie Geysing), Melbourne City Marina (Aurora Oncken, Elissa Howard, Mary-Jo Lynch and Alex), Mercury (Trevor Henri), Savwinch (Eleni Savva), Sundance Marine (Chloe Richardson), Vanessa Spark & Kimberley Hughes (TSV) and Whittley Boats (Marianne Whittley).
The Boating Industry Hub had a great presence at the event, standing out with its stylish boat, jetski, engine and promotional display, as well as with the impressive list of industry professionals that took to the stand and outlined the career opportunities to the enthusiastic students.
Expo appearances, such as this, are a significant piece of the plan to boost our industry profile, and attract and retain more young talent, and in this instance, female talent. Many in attendance scanned the Boating Industry Careers Guide QR code, leaving the event with this recently re-launched guide 'on their phones'. Ready to take home and discuss with their career advisors and parents.
"Thanks go to all of the industry professionals that supported the hub. They did a superb job of presenting our industry and its many opportunities for young people coming through", said CEO Steve Walker "Thanks also to HEADStart and the Victorian Government for putting the event on", he added.
BIAV looks forward to the South East Careers Expo in July and call on industry members to get involved and to support that activity. Contact to enquire or to get involved.