The exclusive Women of Riviera luncheon brought together more than 70 ladies from around Australia and across the Tasman for an entertaining and informative afternoon on the opening day of the Sanctuary Cove International Boat Show and Riviera Festival of Boating.
The luncheon, the first of many social events that were part of the Riviera Festival of Boating, was held at The Grange, located within the grounds of the luxurious InterContinental Resort Sanctuary Cove. It was the perfect venue for the Women of Riviera to connect with new and experienced motor yacht owners over champagne and canapés, and a two-course luncheon to share their passion for boating Riviera style.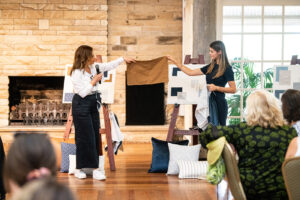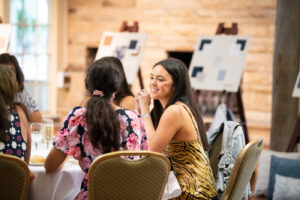 Chrissa Poli introduced the ladies to the 2022-23 range of soft furnishings now available on the latest Riviera luxury motor yachts. The range comprises 10 new collections with a variety of different fabrics from linen and cotton to a more glamorous offering that includes beautiful velvets.
"There's a huge selection of colours in these new ranges that are designed to appeal to everybody," says Chrissa. "Among them are classic navy and white with a vegan tan leather, or the coastal range which has beautiful linens through it and an alpine range with green-white stone colours through the range."
"Everyone had a different favourite. The ladies loved the new collections we have put together and they were very well received."
Among the guests was Lynette Pohio who made the journey across the 'ditch' from New Zealand to step aboard the stylish and sophisticated Riviera 4600 Sport Yacht Platinum Edition for the first time. The new luxury motor yacht will be the first Riviera for Lynette and her husband Marcus.
"It was our first time at the boat show and my first ladies' luncheon, and we had a wonderful time," says Lynette. "As we haven't yet selected the interiors for out new boat it was great to be able to see and feel them first-hand."
For Pippa Batten, the Women of Riviera luncheon offered her more than she had ever expected, particularly from the Q&A session hosted by Riviera's brand and communications director Stephen Milne.
There were great tips and feedback from everybody; I learned so much that I didn't really expect to at a ladies' luncheon. Pippa Batten
"I learned so much during the lunch from the ladies at my table and from the question-and-answer session; it was fabulous," says Pippa, who, with her husband Jeremy, is looking forward to taking delivery of a new 4600 Sport Yacht Platinum Edition.
"There were great tips and feedback from everybody; I learned so much that I didn't really expect to at a ladies' luncheon. It was invaluable. I also made some great connections with the ladies, learning about their boating adventures and experiences. We all exchanged contact details so we can catch up on the water in future."