Gold Coast City Marina and Shipyard (GCCM) is continuing to set the standards in the Australian marine industry with their strong environmental credentials.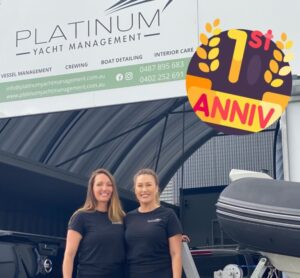 The award-winning shipyard' sustainable initiatives, including the recent introduction of a circular economy research project, are attracting high-profile vessels and new marine businesses who aim to make a difference to our marine environment.
It's the case for the team at Platinum Yacht Management, which opened doors at GCCM in 2021 in one of our start-up hubs. Platinum Directors, Renae Scown and Heidi van Woerden, are a leading force in the changing face of the marine industry that has historically been male-dominated.
The Platinum Yacht Management team consists of highly trained, professional maritime crew that provide a broad range of vessel management services, boat detailing, and interior care services.
Transforming environmental practices in maritime environments
Platinum Green understands the harmful impacts of toxic chemicals in receiving environments and living organisms within. Their extensive knowledge of the boating industry, a degree in Marine Chemical Sciences and their love for the marine environment led them to create a new range of environmentally friendly, Australian-made products for boaties containing highly effective ingredients made from natural and organic sources.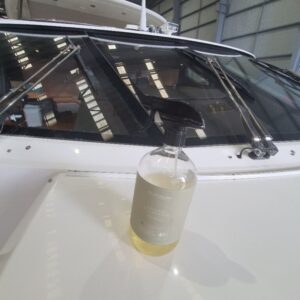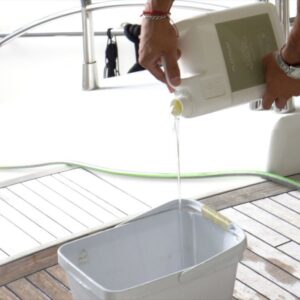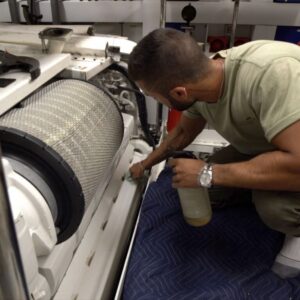 Their range at the moment includes:
Natural Boat and Marine Wash
Natural Degreaser – for engine rooms, bilges, plant, machinery, equipment, BBQs, kitchen wear etc.
Natural truck, plant, and automotive wash
Organic sanitiser – Can be used in a fogging machine as a mist or as a surface spray. Kills viruses and bacteria such as COVID-19, E.coli, Listeria, Staph aureus, and Salmonella choleraesuis – and is TGA approved
Organic disinfectant – a surface spray or used in water tanks and air-conditioning lines. Kills the same bacteria as above
Natural and Natural foam handwashes – gentle on the skin and safer for the environment after being washed down the sink
And they are currently developing more products to add to their product range!
Platinum Green's natural products have been approved by the National Association for Sustainable Agriculture Australia and the Therapeutic Goods Administration. Their safety in the environment has been assessed by a qualified marine and environmental, chemical scientist.
These Australian-made products are highly effective, affordable and much safer for users to breathe in and for marine ecosystems when washed down the sink or drain. More so than other "eco-friendly" products which only have a bio-degradable element Platinum Green products are biodegradable and are fully derived from plant-based products.
Making a world of difference
Heidi worked as a skipper on boats in the Great Barrier Reef for over 10 years and fell in love with the reef and marine environment:
"I decided to study Marine Chemical Sciences at University. Since then, I have worked as a subcontracting environmental consultant. My job is to monitor and study the impact of industries such as mining, agriculture, shipping and boats, sewage treatment plants, marine construction, defence and landfills in marine environments. What happens on land can heavily impact downstream marine environments through run-off, rivers, groundwaters, stormwater, drainage systems and more. Because of this, I understand how harmful toxic chemicals are when they enter the ocean and marine ecosystems. I understand there are plenty of things the industry could be doing to reduce their chemical footprint, however they are not sure where to start."
Renae fell in love with the ocean and coral reef while sailing around the pristine islands of Fiji, this inspired her to start caring about personal care products that are washed down on the boats. This is when she started researching and looking into better alternatives:
"Due to the nature of Platinum Yacht Management work, we worry about staff using toxic or flammable chemicals in confined areas such as below deck on a boat or in engine rooms or a bilges. We also worry what chemicals get washed down the sink or off the side of the boat at work as they are discharged directly into the ocean. This is what inspired us to create safe, natural and organic products. We really want to help save the marine environment and reef while providing a safer working environment for staff. We want to encourage the whole world to switch to chemical free where possible."