Elans new flagship, the E6 performance cruiser has won the prestigious design award in the category for Sailing Yachts at the 11th International Yacht & Aviation Awards 2022. This award ceremony last week was hosted by interior and aviation design magazines Design et al and Luxe et al, which focus on innovative and inspirational side of designed products and accolade the most outstanding designs worldwide.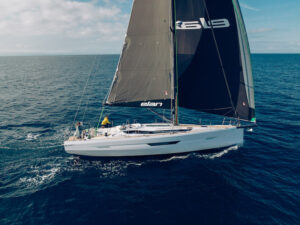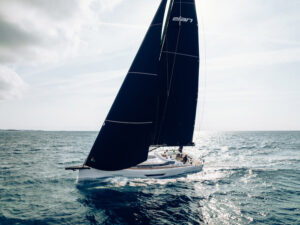 Awards themselves are sorted among different categories such as motor yachts, sailing yachts, interior design, master cabin design, private jet interior, etc. The competition enables broader community of design enthusiasts to view the latest breath-taking designs, vote for their favourite one, and thus participate in the award winning process.
Elan E6 charmed the jury in the first round of elections with its muscular sporty looks enabled with minimalistic soft elegant lines. Merit goes to the successful collaboration between Elan Yachts and famous Italian design studio Pininfarina, which reflects in recognisable design, based on primary exterior elements of the Elan E-line on the one hand, significantly influenced by Pininfarina's design style on the other, which gave the E6 a completely unique breathtaking appearance.
Elan E6 is the lightest and fastest yacht in it's segment, and unifies technological aspects with aesthetics, which is the main objective of good industrial design. The yacht's blend of high-quality materials complements its aggressive and sporty expression whilst portraying elegance and luxury.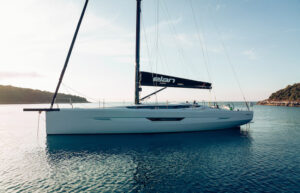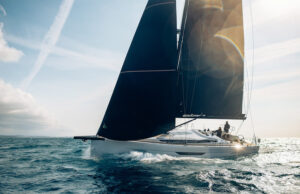 Elan E6 was created for skilled and demanding sailors, that also want a high level of comfort and cruising advantages. This presents a return to the Elan's DNA, with a big boundary push of her performance and aesthetics. The E Line is known for the active chine design, twin rudders and T-shaped keel, but the team at Elan and Humphreys Yacht Design also fine-tuned the new hull design to push the performance in various sailing conditions and all points of sail beyond what would be typically considered feasible for a yacht of this type.
The E6's design finds success in all respects, but some elements truly make this yacht iconic. The coachroof window lines celebrate the heritage of Elan's E Line, while the portlight fold gives the E6 a sporty line and an instantly recognisable look. In the interior, the main stairs in the saloon forecast the hexagonal motif of the interiors and are a centrepiece connecting it all. Instead of wood, the stairs are made of GRP, which carries Elan Yachts to completely new dimensions of design, ergonomics, and durability.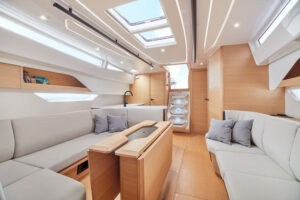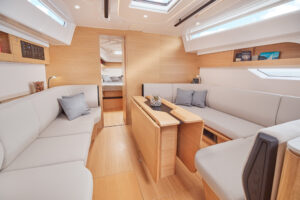 Performance Cruising Yachts has a new E6 on order that will be available for delivery early next year.
Contact 02 9281 4422 or email