Nominations for the 2022 Australian Sailing Awards are now open, with the annual event set to recognise clubs and members for their outstanding achievements and contributions to the sailing community over the past year.

The Australian Sailing Awards are the peak awards for the sport of sailing in Australia and will act as a national celebration of sailing and its significance at a local, state, and national level.
It is important to note that nominees only need to submit one nomination for both State and National Awards, which must be submitted during this nomination period (Monday 27 June to Sunday 31 July). Nominations will first be judged for their relevant State Awards, with the winning nominations from the State Awards then put forward as nominees to the judging panel of the National Australian Sailing Awards.
The winners of the State Awards will be announced throughout August and September at in-person, state-based presentations. The winners of the National awards will be announced at the Australian Sailing Awards and Hall of Fame Inductions Gala Dinner at the Australian National Maritime Museum in Sydney on Friday 4 November.
Key dates for this year's process include:
Nominations open: Monday 27 June – Sunday 31 July
State Winners announced: August and September
National Finalists announced: Tuesday 4 October
National Winners announced: Friday 4 November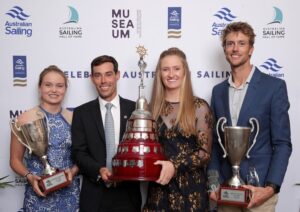 Nominees will be judged for their achievements over the nomination performance period, which is 5 August 2021 to 31 July 2022 for both State and National Awards.
Visit the Prepare your nomination page for all the information you will need to collate your nominations, including the criteria for each award category.
Click here to nominate Club of the Year
Click here to nominate all other categories
Following the COVID-19 pandemic and a challenging period for the sailing community, we are excited to host the State and National celebrations in-person once again. We look forward to honouring all the best aspects of our sport, from our hard-working volunteers, through to inspiring performances from Australian sailors on the international stage.
In 2021 it was the Ocean Racing Club of Victoria who took out the title for Club of the Year after hosting nine offshore racing events attended by more than 274 yachts and increasing training course participation by 76%. Lisa Darmanin received the national award for Female Sailor of the Year for the second year running, while Mat Belcher and Will Ryan were crowned as the Male Sailors of the Year following their Gold Medal winning performance at the Tokyo Olympic Games. A full list of the 2021 Award winners can be found here.
Click here to find out more about the process for this year's Awards.
Nominations are now open and will close at 8pm AEST on Sunday 31 July 2022.
Nominate now for the following categories:
Individual Award Categories
• Male Sailor of the Year
• Female Sailor of the Year
• Para Sailor of the Year
• Youth Sailor of the Year
• Offshore Sailor of the Year
• Coach of the Year
Club Award Categories
• Club of the Year
• Instructor of the Year
• Official of the Year
• Volunteer of the Year
Sport Award Categories
• Lifetime Achievement Award
• SheSails Award
• Sport Professional Award
• Sport Promotion Award
• Sustainability Award