With Rivergate Marina and Shipyard winning council approval for its $200 million expansion, Andrew Cannon and his team are excitedly preparing for the shovel-ready development.
There's no01body more ready – or enthusiastic – for this expansion than Andrew.
As the business' longest serving employee, Andrew has seen the family-owned marina and shipyard go from strength to strength since its inception in 2006.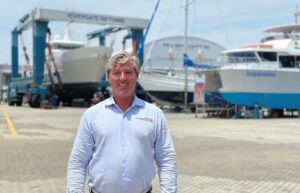 Working in the marine industry for more than 20 years, Andrew has global experience in vessel delivery and maintenance services. He owned and operated his own marine services business before handing it over to family and embarking on his career with Rivergate.
Andrew joined Rivergate in the shipyard in 2006 before being promoted to the General Manager position in 2011. During his 16 years with the company, Andrew has seen more than 300 prestigious vessels serviced at the premier refit destination – including MY Amatasia, MY Promise, MY Ramble on Rose, MY Ningaloo and MY No Comment.
Despite the high calibre of vessels passing through the shipyard, Andrew has his eyes set firmly on the prize of even larger superyachts entering the fold.
"Being able to service and refit bigger vessels has been a dream of mine for a very long time now," he said.
"Growing our business to a level that will be exceptional to both the Australian and global marine industry is truly exciting."
"It will certainly be one of a kind."
Rivergate has unfortunately had to turn away significant business in the past because of the limited lifting capacity for vessels otherwise very eager to come to Australia for refit and maintenance.
However, Rivergate's expansion will include the ability to lift and service vessels of up to 3,000 tonnes and 90 metres, which would also inject close to $1 billion into the Queensland economy and create an estimated 2,000 marine and tourism jobs.
Other key elements of Rivergate's planned expansion include:
new hardstand space, sheds and berthing to service multiple large vessels at the same time
a Trade Centre for Excellence, which would be home to a new 5-storey purpose-built facility featuring training rooms, offices, café, crew accommodation and crew recreation facilities.
With a plethora of industry awards under our belt, including the illustrious 2020 AIMEX Superyacht Industry Provider of the Year award, Andrew believes there's no better team to both oversee and deliver an expansion of this kind.
"We have a fantastic team here at Rivergate," he said.
To learn more about Rivergate's expansion plans, visit www.rivergatesuperyachts.com.au