Cold Water Immersion
Winter is now well and truly here, but it has not stopped people using their boats when the weather has been suitable.
Water temperatures are now down to around 11 degrees on the coast so make sure you stay in the boat and don't fall out of it!
Cold water immersion is a real issue in Tassie and MAST urges everyone to do some research on it. There are some really interesting YouTube clips on the web about cold water immersion and cold water shock including the MAST video. Take some time to learn about this topic – it may save your life.
Infrastructure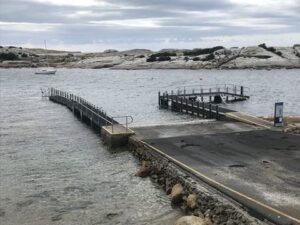 The Bicheno walkways are now completed and by all accounts they have been well received by the boating public. On a 0.2 tide there is still 1 metre at the end of the western walkway. The eastern walkway has also been extended, making berthing a little easier when people are parking or retrieving vehicles.
It is great to see the access to Swan Bay in the Great Lake upgraded after a joint funding program with Inland Fisheries Service and MAST.
This is one of the most used ramps in the lakes and the access upgrade will no doubt benefit all those who use it.
The long-awaited improvements at Dover are now underway with the approach to the ramp being upgraded. This work will take four weeks to complete. It is also hoped the Huon Valley Council will commence its works to improve the parking in coming months ready for the summer.
There have been some delays with piling issues at Cygnet and it is anticipated this new jetty will now be completed towards the end of August.
MAST reported in the Autumn 2022 edition of Boatwise that the artificial reef at Turners Beach had recently been deployed. At the time of publication, a ship was on its way to Bell Bay to load the reef modules and deploy them, but unfortunately the ship's crane had a breakdown and the ship availability window was lost. Contractors are working with the shipping company to find another time to install the reef. Once deployment is complete, MAST will publish a further post.
MAST Website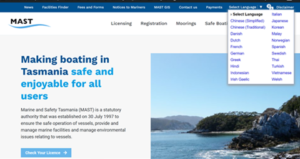 MAST is noticing more and more people from different cultures using boats and getting out to explore our wonderful waterways. Sometimes language barriers prevent people knowing exactly what the requirements are.
The MAST website can now be translated into many different languages.
If you have friends from other countries, please let them know that boating information is now available in other languages on the MAST website.
Social Media Campaign
This week MAST launched its social media safety campaign. The campaign will be run over the next few months, with MAST using various videos to push the importance of being safe when boating. Some people take safety for granted and think nothing will happen to them.
Watch Sarah's story. She didn't think she would fall out of a boat and sustain a serious injury! Hugo also has some very good advice for such a young boater.