Parliamentary Secretary for the South Coast, Shelley Hancock, has officially welcomed Marine Rescue Jervis Bay's $791,000 rescue boat Jervis Bay 41 in a ceremony conducted at Huskisson this afternoon.
Ms Hancock was joined by Marine Rescue NSW Commissioner Stacey Tannos and Mayor of Shoalhaven City Council Amanda Findlay in a ceremony to officially commission Jervis Bay 41 to the Marine Rescue NSW fleet.
"Jervis Bay 41 is one of 38 new rescue vessels funded by a $37.6 million four-year State Government investment to support the vital, life-saving work of Marine Rescue NSW volunteers," Ms Hancock said.
"With powerful 900 Horsepower Suzuki engines and specialist Raymarine Suite of maritime navigation equipment including 16 inch multifunction displays, radio direction finder, FLIR camera and two loud hailers, this new rescue boat has already proved itself to have the speed and technology to quickly and safely get rescue crews where they need to when vital seconds count."
"This outstanding rescue vessel is a valuable investment in the safety of Jervis Bay's active local boating community and its many visiting boaters."
Marine Rescue NSW Commissioner Stacey Tannos said Jervis Bay 41 had been purpose-designed and built to meet the demanding local operating conditions found on Jervis Bay and out to sea, and would prove a reassuring presence for locals and visitors alike.
"As our Jervis Bay unit works closely with the naval base at HMAS Creswell, we needed a vessel that could not only quickly and safely respond to emergencies in the worst of weather conditions but also reliably support the Navy's exercises," Mr Tannos said.
"Critical in the build process was working with our volunteer members and challenging their thinking on what a rescue boat should look like. The outstanding result speaks for itself.
"Marine Rescue Jervis Bay Unit Commander Tony Dagger said the new vessel was a significant improvement over the unit's former boat.
"This boat has a number of interesting features, including a specially designed hydraulic heavy lift platform which drops below the waterline to assist in disembarking passengers and loading heavy equipment, a carbon fibre lifting davit, deck area with a roll away tow line and roaming bilge pump system, and lots of storage for essential rescue and safety equipment."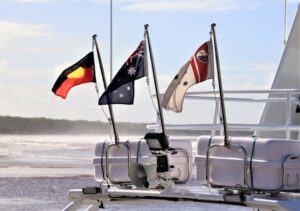 "The internal fit out has been carefully planned with high grade ergonomic seating, a stable internal workspace to lay out charts, and grab rails for extended search and rescue operations helping to reduce fatigue and enable crew members to safely operate out on the water for longer."
"The vessel's name, the John Gallimore, is a fitting tribute to much respected member John Gallimore, who tragically died while on duty as a Radio Operator last year."