A Grade 1 International World Sailing event (*200 pt ranking event), Sail Melbourne is set to return to Port Phillip this summer, with competition taking place from the 14-18 January 2023.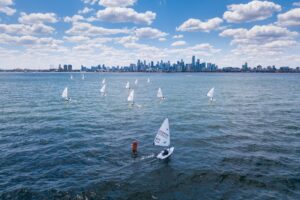 The pinnacle Olympic and invited class regatta in Australia, Sail Melbourne is proudly hosted by the Royal Brighton Yacht Club on Bunurong country each year.
The 2023 regatta will incorporate competition within iconic Olympic classes such as the Laser Std, Laser Radial Nacra 17, 470, 49er FX and 49'er, but will also incorporate the Australian Para Sailing Championships and therefore racing in the Hansa 303 one person and two person, SKUD 18 and 2.4mR classes.
Registration and regatta documents are now open, allowing competitors, support vessels and volunteers plenty of time to organise their entries and attendance. For up to date information on the event, visit the Sail Melbourne website or follow them on Facebook or Twitter.
*Please note the ranking committee at WS may reduce the grading.