Transport for NSW (TfNSW) has recognised Boating Safety Officer and volunteer Eric Taylor with the NSW Maritime Medal 2021 for Community.
The Community Medal is awarded every two years to a person or group demonstrating outstanding and sustained effort that benefits the general boating and/or maritime community of NSW.
Transport for NSW Deputy Secretary Safety Environment and Regulation Tara McCarthy congratulated Mr Taylor for his outstanding and sustained contribution to the boating and maritime community.
"The selection panel agreed that Eric Taylor, a TfNSW Boating Safety Officer and long-time volunteer with several community organisations, was the stand-out nominee for the Community medal," Ms McCarthy said.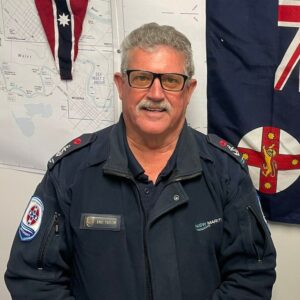 "While the panel acknowledged that Mr Taylor's 45-year career with NSW Maritime was part of his employment, it was his significant volunteer work in regional Australia – including a combined 30 years' involvement with events, which includes water ski racing, Royal Flying Doctor Service paddle events, and Scouting events – which particularly impressed selectors and demonstrated Mr Taylor's longstanding, continued efforts for his community.
"Mr Taylor began working for NSW Maritime in Sydney in 1977 and transferred to Mildura, in northwest Victoria, in 1992.
"It was in this region, on the banks of the mighty Murray River and Darling River, where his Boating Safety Officer skills were truly tested and until late 2017 – for more than 25 years – he was the only NSW Maritime representative in this area.
"The region which Mr Taylor patrols is the largest in NSW and this poses unique but significant challenges such as remoteness and extreme conditions – all of which Mr Taylor takes in his stride.
"TfNSW thanks Mr Taylor for his leadership, irreplaceable knowledge, mentorship of colleagues, dedication to training the public in water safety, and all-round positive attitude.
"Mr Taylor's invaluable contributions to the maritime community and selflessness in helping others, ensures that those he works and volunteers with will also strive to be, in his own words, 'of good use to their community'."
Mr Taylor was previously awarded the Roads and Maritime Services Integrity Award for his significant oversight of a paddle boat salvage operation on the Murray River in 2015, and the NSW Service Medallion for more than 40 years' meritorious service to the NSW Government in 2018.
For more information on the NSW Maritime Medal, visit: maritimemanagement.transport.nsw.gov.au/partners/nsw-maritime-medal/index.html