Joining the fleet of Australia's most sought-after aluminium boat dealers, Melbourne Quintrex is set to take one of the world's most liveable cities to another level, offering more locals the opportunity to dive into the boating lifestyle with a Quintrex.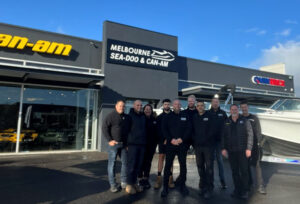 Renowned for its eclectic atmosphere and bustling waterways with river systems, inland lakes and open marinas offering a flurry of potential, Melbourne is one of the most opportune boating locations in Australia.
Established in the community for its outstanding service as a long-running trusted Sea Doo dealer, Melbourne Quintrex sought to extend their portfolio by bringing on the leading aluminium boat brand to further serve the Australian community.
"We took over Melbourne Sea-Doo almost 16 years ago, and we are one of Australia's biggest Sea-Doo and Can-Am dealers. We had to move 3 times as we have kept growing as a business. Quintrex is a great addition to the Business," Sam Mosca, Melbourne Quintrex Dealer Principal.
"Quintrex is the number one aluminium boat on the market, and we also love everything BRP does and know they will take Quintrex to the next level."
Located in the heart of Melbourne in Essendon Fields, Melbourne Quintrex is a proud addition to the Quintrex network of Australia's best dealerships, set to help service the local Victorian population of over 6.7 million people and beyond.
The dealership has gone from strength to strength in its 16-years of business, bringing thousands of people into the adventure lifestyle, starting off with a modest portfolio of BRP products including Can-Am and Sea-Doo. Now, the journey is only up from here, adding the high-quality and reputable Quintrex powerhouse to its line-up.
Equipped with a strong team of passionate boaters, including Dealer Principal, Sam Mosca whom has thrived from a background in Sea-Doo racing, the dealership carries a wealth of knowledge set to support all boaters entering the market – both new and old.
"We believe our customer service is second to none and that all the customers in our area will enjoy coming to our store to not only enjoy Quintrex but all BRP brands," Sam said.
Quintrex is founded off a solid reputation of "Boating Made Easy", inspired by producing a vessel suited to every customer and lifestyle whilst delivering a user-friendly, approachable product for new entrants.
From entry-level tinnies, to sports-fishing barra-bass styled vessels, offshore plate boats and family-centric layouts, Quintrex is heralded as a one-stop boating shop.
Quintrex's commitment to quality and innovation has led to the brands famed reputation and ride performance, with pioneered technologies including stretch-formed aluminium delivering an unparalleled on-water experience by slicing through chop and dispersing water away from the boat.
"Thanks to our network of highly-skilled and knowledgeable dealerships including Melbourne Quintrex, choosing the perfect vessel has never been easier – speak to your local dealer today to discuss the ideal boat for your needs and lifestyle," Drew Jackson, Commercial Manager ANZ said.
"With our network located strategically across the country, we have worked hard towards ensuring Quintrex boats are easily-accessible for all Australians."
Quintrex boats are hand-crafted on the Gold Coast by a specialist team of boat-builders, with each vessel specially built to meet the buyers' individual requests. With a wealth of customisation potential thanks to an expansive option list or, simple configuration upgrades with Quintrex's "Boat Bundles", personalising each boat is easy.
From select dealers, including Melbourne Quintrex, each vessel comes available as a ready-to-go boat, motor, and trailer package, fully configured from the factory.
"We are proud to provide all Aussie's with the opportunity to experience the boating lifestyle. Thousands have already lapped up the chance to become part of the Quintrex family, and it's only up from here as we gear up for an exciting future ahead."
Owned by BRP (Bombardier Recreational Products), Global leader in Powersports, Quintrex is set to continue making bold waves in the marine industry.
To find out more about the range or, become part of the Quintrex family, contact Melbourne Quintrex today at https://www.melbournequintrex.com.au/quintrex/contact