Hot off the back of her victory in the Sydney Gold Coast Yacht Race, Andoo Comanche headed to Rivergate Marina & Shipyard on Tuesday night for expert race preparation ahead of the Brisbane to Hamilton Island Yacht Race, which starts from RQYS on Friday 5 August.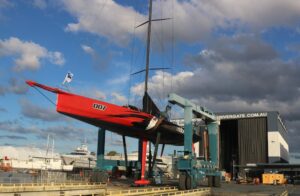 The Brisbane to Hamilton Island Yacht Race is one of Australia's longest tropical category 2 offshore yacht races and will deliver competitors to Hamilton Island in time for the Whitsunday Race Weeks.
The 30.5-metre champion maxi, nicknamed "the aircraft carrier" for her 7.9-metre beam, has been chartered by John "Herman" Winning for a 24-month racing schedule which commenced with the Sydney to Gold Coast Race, followed by the Brisbane to Hamilton Island, and then Hamilton Island Race Week.
"Our focus will then turn to preparation for the Sydney to Hobart ahead of a campaign in New Zealand in early 2023," Winning told Sails Magazine. "We're looking forward to getting to the start line and hopefully continuing her winning run."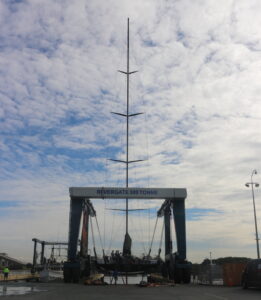 Comanche was commissioned by software mogul, Jim Clark, designed by VPLP/Verdier Maxi, constructed of carbon fibre by American builder Hodgdon and delivered in 2014. The yacht is a three-time winner of the Rolex Sydney Hobart, taking its first line honours win in 2015, its second in 2017 after Wild Oats XI, which had crossed the line first, was penalised, and the third in 2019.
A carbon-fibre weapon with close to 8-metre beam and 7-metre draft, Andoo Comanche requires specialist handling.
"She is definitely a challenge to lift," acknowledges Rivergate Marina Manager, Andrew Cannon.
"Rivergate is one of the few places on the east coast where maxis and racing yachts can get access in all tides, all year round and haul out. Hamilton Island Wild Oats, Black Jack and Stefan are also here at the moment ahead of the Race start on Friday."
Joe Akacich (Black Joe) is Andoo Comanche Team Manager. The racing yacht had a three-day window to undertake repairs on the hull, keel and rudders.
"We're basically in and out overnight," he explains. "She's a tricky boat," Joe continues. "At 8-metres wide with a 7-metre draft and a rig height of 48-metres, geometry-wise, she's a challenge. At our Sydney base, Woolwich dock we have to use a crane.
"It was always our plan to do a quick look over the boat out of water ahead of Hamilton Island Race Week. Rivergate is the only place we can get in and out smoothly. We have a solid relationship with Andrew and his team, who are always accommodating and can handle the quick turnaround."
The Andoo Comanche crew are elated and relieved following their Line Honours win in the Noakes Sydney Gold Coast Race, which they completed in 1 day, 17 hours, 55 minutes and 43 seconds.
The 384 nautical mile race from Sydney Harbour to Gold Coast didn't produce ideal conditions for the seasoned maxi, with light winds providing a tactical challenge for the boat which relishes high speed on the water.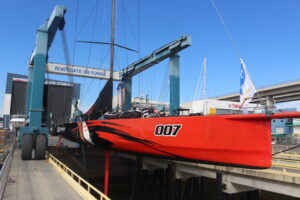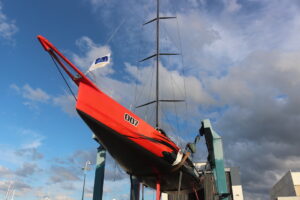 "There's a lot of relief that we pulled it off," says Joe, who along with Sam Fay and Iain Murray put together the Andoo Comanche Team.
"These guys have only been together three or four weeks. We had an intense week training, sailing every day in wind and swell, then the race conditions didn't really suit us. We were lucky and worked hard to win. She's really a beast. Show her a bit of wind and she's away!"
Now back on water at Rivergate, Andoo Comanche will make final Race preparations before cruising to Royal Queensland Yacht Squadron on Thursday, racing with a full crew of 20 on Friday.
Post-Hamilton Island Race Week, 20 to 27 August, Andoo Comanche will return to Sydney to train for the next events in the Audi Centre Sydney Bluewater Pointscore Series which begins with the Flinders Islet Race, Saturday 24 September and culminates in the icon of Australian sport, the 2022 Rolex Sydney Hobart Yacht Race, Sunday 26 December.
Then it's off to New Zealand for a tilt at the superyacht regatta, the Millennium Cup, 13 to 16 February 2023.
"We're in it to win it, every race," Joe attests. "We're chasing nothing but bullets everywhere we go."