On day three of the Auckland Boat Show, the 2023 event is emerging as a show of sales.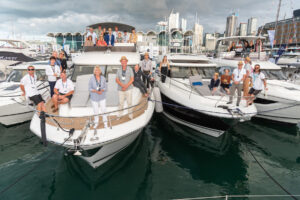 Exhibitors have reported strong trading across the range of marine displays; from berths to large yachts. As the central Auckland location has filled with boats, sea trials and suppliers, the boating public has demonstrated a strong appetite for new marine purchases.
"We were blown away," says Alisha Hickling of Sevenstar Yacht Transport, speaking of customers who snapped up the last spots on a European-bound yacht transporter leaving in just ten days.
"It feels like everything has ramped right back up again, boats are moving and the industry is out in full force."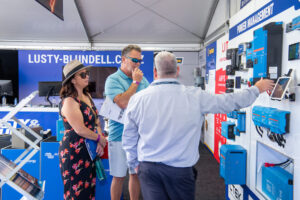 Orakei Marine christened two new Prestige yachts to fanfare during the show, with a champagne christening to mark the handover to their delighted new owners. Joined by clients and owners, the celebration not only marked two successful sales of the Prestige 460S and Prestige 520, but an exceptionally productive show so far for Orakei Marine.
New Zealand boat builder, Elite Marine Design has found the show full of visitors appreciative of the company's custom designs.
"We sold a 16 metre directly from the show on Friday, to a visitor who has come to the show from out of Auckland' says Elite Marine's Bill Upfold.
Onboard some of the largest yachts in the show, brokers have been kept busy as potential buyers move through the three impressive vessels on display.
"The show has been really good with steady genuine enquiry throughout the weekend," says managing director of Pinnacle Marine European Ltd, Azimut and Elan, Grant Saunders.
"There has been a lot of interest in our new Azimut 53 Fly model of which we have sold two recently and quality enquiry on a number of other models in the Azimut range.
"We are also pleased to announce that we sold a boat at the show to a new client."
Whakatāne yacht builder, Legacy Marine launched its three New Zealand-built Legacy Motor Yachts to the public.
"The number of people who have looked through them has been amazing and Jellicoe Harbour has proven itself as the ideal venue for a great event. All we'd change is more space to store shoes while onboard as we were not prepared for the amount of shoes the pontoon would hold as people explored the boat!"
The show has featured the New Zealand debut of Bentley's Hybrid Flying Spur alongside the New Zealand debut of striking Princess models the V55, V65, V40 and F55, with the two brands long sharing a philosophy of luxury, performance and the best hand-crafted work Britain has to offer.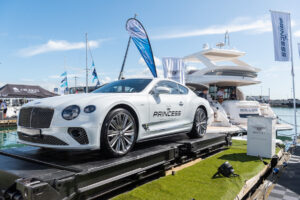 Central Auckland has been transformed into a boater's paradise with the largest collection of luxury yachts seen in New Zealand, as well as a sea trial marina, and marquees full of New Zealand marine companies after a hiatus of the boat show since 2019. In the on-land section of Jellicoe Harbour formerly filled with America's Cup bases, rows of trailer boats are providing fodder for a public hungry for the boating lifestyle.
A study commissioned by NZ Marine last year showed 1.9 million New Zealanders take part in boating annually, with more than 1,540,000 boats on the water in a $2.9 billion dollar industry which is growing by an estimated 44,810 vessels per year.
"The marine industry is New Zealand's largest non-agricultural, manufacturing industry," says NZ Marine CEO, Peter Busfield.
"It's an industry built on high-tech design, industry-led training and passionate people."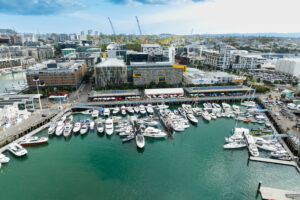 Running from 23-26th March, it's New Zealand's largest on-water display of vessels and takes place in central Auckland's Jellicoe Harbour. The internationally-acclaimed event is known for its sea trials – allowing those in the market for a new boat to take for-sale vessels straight from downtown Auckland and onto the Waitemata Harbour – as well as hosting New Zealand's largest collection of luxury vessels, innovative marine launches and annual new releases within a boat show.
Click here to view full photo library