Floatspace, Australia's fastest growing online boating platform, announced the launch of its new proprietary software "Boatbooked" as it raises capital to keep up with growing hype in the business.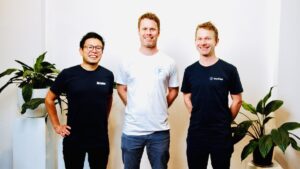 Floatspace is Australia's leading online platform that enables people to easily book a boat for any event on the water. Powered by its proprietary technology "Boatbooked " streamlines the customer journey from initial inquiry to boarding the boat, with real-time availability, live pricing, and automations creating a seamless experience for both customers and boat owners.
From humble beginnings in 2018, Founder, Hugh Treseder has grown the business from startup to a multi-million dollar enterprise that's captured the attention of key investors Tim Fung, Founder and CEO of Airtasker, Mike Ford, Advisor and Founder of ASX listed SiteMinder (SDR) and Chris Deere the former CTO and Deputy CEO of Vocus (ASX: VOC).
While still working at The Commonwealth Bank, Treseder would use his lunch breaks in the CBD to hand out flyers for Floatspace in the hope he would attract boating enthusiasts. Fast forward 5 years and one of those flyers resulted in a $450k investment. Similarly he would constantly pitch investors until in 2019, he convinced Tim Fung – Founder of Airtasker to invest over a coffee in a Sydney cafe.
"In the early days, I'd use my lunch hour everyday walking up and down the CBD, handing out flyers near the water in the hope I'd grow awareness and word of mouth of Floatspace. A full backpack everyday, it was a real hustle, even trying to work out the email addresses of luxury boat owners" says Treseder.
Since then the business has gone from hundreds of customers to over 30,000 and key advisor Tim Fung says Floatspace is well placed to make waves in the overseas markets and continue to grow its footprint down under.
"Floatspace solves a genuine problem for both boat owners and enthusiasts, its marketplace and booking functionality is terrific and continues to improve taking what's been traditionally an antiquated industry with arduous and confusing processes to something seamless and fun to use," says Fung.
Since launching in 2018, Floatspace has become a household name for many Aussies looking to hire a boat. Today, five years on Floatspace is valued at $8 million, has over 30,000 customers and has processed over $5M in gross booking value since launching in 2020. Floatspace kicks off its first Equity Crowdfunding campaign with Equitise with ambitions to raise $1 million, with expressions of interest now significantly ramping on the Equitise platform.
Interest in Floatspace continues to increase with initial enquiries from Australian and International players in the peer to peer space with complimentary verticals. The unique model and its ease of use is what Co-Founder of Equitise, Jonny Wilkinson says makes Floatspace such an interesting business.
"There are often many back and forth correspondence by email and phone leaving customers uncertain and unclear about the product they are booking. Floatspace addresses this by feeding real-time availability through its software and enabling all possible variables to be catered for. It's brilliant and has huge potential to crack overseas markets and scale its business, quickly and efficiently", says Wilkinson.
In 2023, the business plans to further develop its technology and platform capability, activate new revenue streams and scale its product and marketing operations in the Australian and US markets.