What is the next big little thing in sailing? The answer is The Little Aussie Lap.
GCCM are proud to announce our sponsorship of a young Aussie boatie, Xavier Doerr, who is undertaking an extraordinary task – and aiming to break various sailing records in the process.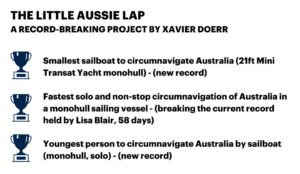 Who is Xavier Doerr and what's his goal?
At only twenty-one years old, Xavier is a two-time veteran of the Rolex Sydney to Hobart yacht race. In addition to being a member of home club Southport Yacht Club, he is a member of the Cruising Yacht Club of Australia (CYCA) and their prestigious world class youth match racing program in Sydney, which has produced some of the world's best offshore sailors.
Xavier has a passion for sending high performance carbon fibre race yachts down the face of huge waves. Through his work as a rigger, passion for match racing and self-learnings on the carbon fibre construction and shipwright work, he is making a name for himself as a prominent youth offshore sailor.
Xavier is self-sufficient out on the open oceans, being able to repair any mishaps or breakages that come his way and he'll need to be on his next big voyage – circumnavigating Australia on a 21 ft yacht!
What is he doing?
'The Little Aussie Lap', sponsored by GCCM, will be a solo, nonstop, unassisted, circumnavigation of Australia in a 21ft high performance carbon fibre race yacht that will make and break several Guinness World Records including:
Smallest sailboat to circumnavigate Australia (monohull, solo) – (new record)
Youngest person to circumnavigate Australia by sailboat (monohull, solo) – (new record), and being the
Fastest solo and non-stop circumnavigation of Australia in a monohull sailing vessel – (breaking the current record held)
In one of Australia's most daring and extreme record attempts, the trip is the equivalent of completing 12 consecutive Sydney to Hobart races, or 1/3 total distance of a lap of the globe. It'll mean 200 freeze dried meals for Xavier and only 15 minutes of sleep at a time so that he can maintain a constant lookout to achieve maximum performance.
In order to facilitate his journey, Xavier has spent the past two years planning and refitting a 21ft high performance carbon fibre offshore racing yacht; a Mini Transat 650 class yacht. The Mini Transat – a boat specifically designed for high performance solo sailing across the Atlantic Ocean forms the perfect platform to complete such a record attempt.
When is he doing it
Xavier Doerr plans to depart Southport Yacht Club on the Gold Coast on 28 April 2023 and when his voyage is completed, he'll be the fastest, youngest sailor to complete the journey on the smallest boat. Xavier plans to complete the journey in under 50 days.
This will mark his second attempt to claim the record, with his first attempt coming to a halt due to electrical failure within a howling, multiple day 60 knot storm.
How to get involved
As a group of boaties supporting boaties, GCCM are proud to be sponsoring Xavier's not so little journey around Australia. We'll be watching his progress closely and so can you! With access to a custom built 24/7 online tracker, fans can track Xavier's progress in real time, all the time, from anywhere in the world.
The tracker may be viewed at: http://www.thelittleaussielap.com/tracker
For more information visit www.gccm.com.au