Marine Rescue Tuggerah Lakes and Batemans Bay will welcome new vessels later next month as construction continues on Tuggerah Lakes 21 and Batemans Bay 21.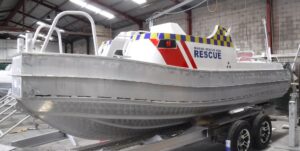 The new 6.3 metre walk-through console Naiad boats are being built at Yamba Welding and Engineering on the NSW North Coast.
The vessels will be powered by twin 115hp outboard engines capable of reaching speeds of 38 knots.
The new rescue boats also feature a full Raymarine suite and are almost identical apart one slight difference.
TL 21 will have a fixed roof while BM 21 features a foldable Bimini cover.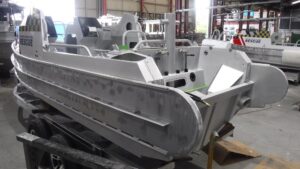 Marine Rescue NSW Senior Manager Fleet Kelvin Parkin recently visited Yamba Welding and Engineering for a construction update.
"Everything is progressing well, there's no major hurdles or delays and we are very much looking forward to adding these vessels to our fleet," he said.
Mr Parkin said the walk-through design has proven successful for Marine Rescue.
"It allows the crew safe and easy access to the front of the boat.
"It creates a really safe environment for the crew to work in so they're not standing on the edge of a vessel and it reduces the risk of falling overboard when you are working lines or dropping anchors or even when you are talking to other members of the public when you need to get a communication across.
"These new rescue boats will play a vital role in Marine Rescue's mission of saving lives on the water," Mr Parkin said.
TL 21 and BM 21 are two of 38 new rescue boats funded by the NSW Government's $37.6 million investment in 2019 to support the vital, life-saving work of Marine Rescue NSW volunteers.
For more information visit www.marinerescuensw.com.au