Australians eat more than 356,000 tonnes of seafood each year, now there is a simple way for seafood lovers to give back to the ocean via OneFishTwoFish, a new program which aims to return two fish to the sea for every fish or seafood equivalent cooked, sold or consumed.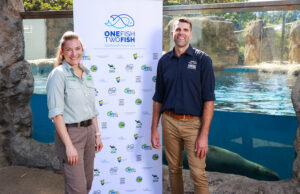 The world first program was developed by Seafood Positive, an early-stage social enterprise with a mission of no net loss of marine life, to provide finance for ocean conservation programs that measurably improve fish and marine life.
Marine biologist, ocean conservationist, and OneFishTwoFish founder Dr Chris Gillies said he started the program to address the challenges of seafood sustainability.
"OneFishTwoFish helps seafood restaurants, businesses, retailers and consumers balance their seafood consumption by replacing each fish they serve, sell or eat with two more in the ocean," Dr Gilles said.
"This solves an ethical dilemma for sustainability-conscious seafood consumers and provides a way to positively connect seafood consumption with ocean health.
"The funds will help provide finance for third-party ocean conservation programs including seagrass and reef restoration, and fish restocking programs to measurably improve fish and marine life across Australia.
"We have an advisory committee that includes representatives from the seafood industry, marine conservation groups, the public service and business to ensure we're funding programs that meet or exceed global biodiversity offset standards. The program is also supported by respected stakeholder groups, including the Australian seafood industry, Sydney Institute of Marine Science, CQUniversity and OzFish Unlimited."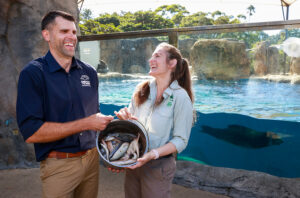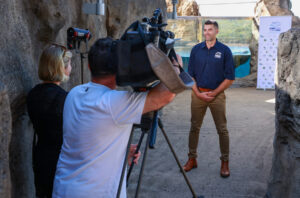 OneFishTwoFish is funded by annual subscriptions that can be bought by either members of the public or businesses, and is proudly launching with a platinum selection of foundation supporters including Taronga Zoo, Melbourne's Stokehouse restaurant, Stomping Ground Brewing Co, Two Hands and The Happy Apple supermarkets.
"It's a simple way for seafood consumers, retailers, restaurants and other businesses to give back to the environment through their seafood consumption. We would love to have everyone who sells or buys seafood sign up to the program.
"We send individuals, couples and families who subscribe a certificate, information about sustainable seafood, seafood recipes, interviews with chefs, stories on the latest marine science and technology, and updates on the projects their subscriptions are supporting," said Dr Gillies.
"Business subscribers receive project images, videos and stories to use, marketing collateral, logo use and invitations to special events. We also provide them with access to our OneFishTwoFish sustainable seafood network that connects like-minded businesses and customers.
"We're committed to transparency and will post project reports and other documentation on our website so people can review outcomes for themselves."
Seafood Positive has its eyes on the future, too. Dr Gillies hopes to achieve B-Corp certification and expand the OneFishTwoFish programs from Australia to other countries in the near future.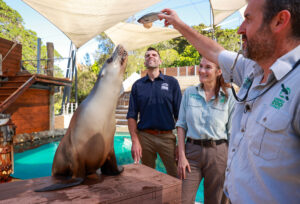 "We've already seen that programs like this work," he said. "The global carbon market is worth $851 billion and delivers finance to many conservation and restoration projects around the world. More than 130 countries use biodiversity offsets," said Dr Gillies.
"One of the best ways of re-creating healthy fish populations is to make sure young fish survive beyond their first few weeks of life, and we can do that by restoring the habitats that nurture fish and through targeted breeding programs."
For more information about OneFishTwoFish, please visit seafoodpositive.org.