An enticing combination of sunshine, steady breeze and some fast sailing between Port Stephens's magnificent offshore islands made for a banner Day 3 of the Sail Port Stephens Passage Series.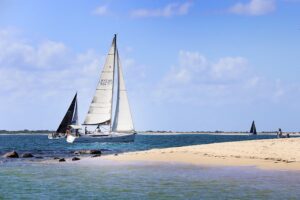 The wind gods bestowed their fickle favours upon the race fleet comprising 107 boats across five divisions, dispatching a building nor' east breeze for the exit between the waterway's spectacular sentinels, Tomaree and Yacaaba Heads.
The boats that minimised their time in the strong outgoing tide got an early jump on their rivals, and Robert Kelly's Virago and Gerard Smith's Condor led the pursuing pack out to the first mark of the course, Little Island.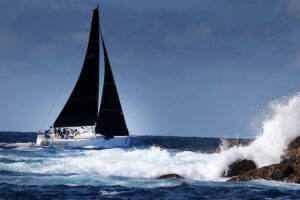 Spinnakers were hoisted for a textbook downwind run to a turning mark off Box Beach then another upwind leg to Cabbage Tree Island before a final champagne leg under kite in a 12-15 knot breeze back in through the heads to the finish off Nelson Bay breakwall.
Lisa Callaghan's Sydney 38 Mondo from Manly Yacht Club sailed a near flawless tactical race and was rewarded with first place in Division 1. Julian Bell's Beneteau 50 51st Project utilised their local knowledge to record a solid second, while Peter Byford's Kaymai from the Royal Prince Alfred Yacht Club was the big improver from the previous two days, finishing third.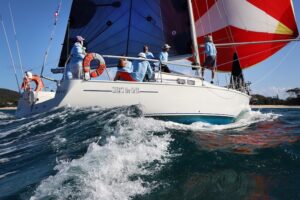 The sails on Lee Condell's brand new Jeanneau Sunfast 3300 Sunfish were only hoisted for the first time on Monday but today the highly experienced sailor and Jeanneau dealer for NSW steered his charge to victory in Division 2.
"We made our gains upwind," he explained. "We're just learning to get the boat in the groove," he continued, an ominous sign for the rest of Div 2. Justin Mitchell's Rant & Rave though have a two-point buffer in the overall pointscore thanks to a second place out on the islands' course, while Brand X, a Beneteau 40.7, slotted into third.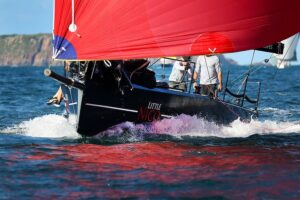 Division 3 has evolved into an intra-club battle with Gosford Sailing Club entry, Bruce Thomas's Aeolian, an Elan 37, denying fellow GSC boat Animal Farm their second bullet of the series, while Serendipity from the Royal Prince Alfred Yacht Club recorded a morale-boosting third after a tough start to the regatta.
Aeolian's owner Bruce Thomas couldn't be onboard today but said he was "stoked" with the result and singled-out helmsman Greg Lowe and Doyle Sails Sydney loft owner Shane Guanaria for their contribution.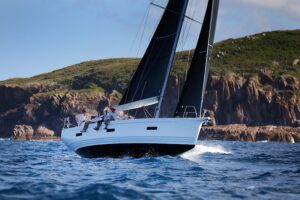 Pinta Bay, Frank Milner's Jeanneau SO 349, has been a model of consistency in Division 4 with three second places so far. Today, Slac-N-Off from Toronto on Lake Macquarie put in a winning performance, with Ratty Tooey in third.
In the Non-Spinnaker Division, Great Expectations from the Cruising Yacht Club of Australia ended Elara's dominance, with fellow CYCA entry Symbiosis in second, with only 37 seconds to Elysium in third.
Sailors then swapped deck shoes for the RM boots, formal flanos and Akubras at the Sail Port Stephens' iconic midweek Ball on Wednesday night, ahead of a lay day on Thursday.
For more information visit www.sailportstephens.com.au