On the occasion of the famous Multihull Boat Show in La Grande Motte, we take a look at some of our catamaran and trimaran projects – and explain why electric mobility and multihull vessels are a match made in heaven (even on the high seas).
1. MORE SPACE, SPEED, AND LIGHT
Catamarans have a larger deck area than traditional sailing yachts and are, on average, 20-30% faster. That's great if you like to chill on the sun deck or cherish the spray in your face, but it's also interesting from an energy management perspective. Catamarans offer a larger area for the installation of wind turbines and, even more importantly, solar panels. A large high-sea catamaran has easily enough space for 20-50 m2 of solar panels, which adds up to as much 10 – 20 kW on sunny days. Enough for the hotel load.
"Sailing is all about efficiency, about being lean and in touch with nature," says Thibaut de Montvalon, Brand Director of Excess by Groupe Beneteau. They equipped their Excess 15 catamaran with a Torqeedo ZF saildrive and Torqeedo's Deep Blue Hybrid system. "At Excess, we build catamarans that connect the skipper to the wind and waves," he adds. Catamarans are particularly well-suited for hydrogeneration because they have two motors and sail at higher speeds. The water turning the propeller under sail can generate up to 5kW per hour on a fast sailing yacht and approximately 100W per hour at only 5 knots. On the Excess 15 or similar high-tech catamarans, the Deep Blue energy management system shows the skipper and guests in real time how much energy solar and water power are being generated – making it easier to enjoy time on the water.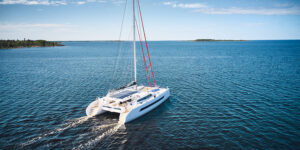 2. A GREEN WAY TO BLUE WATER
A large catamaran might feel like a small island. Since you don't have to visit a harbor so often, harnessing the power of the wind and sun with these state-of-the-art systems makes you truly independent. The Ocean Explorer 72, a high-tech catamaran equipped with a Torqeedo Deep Blue Hybrid electric propulsion and energy management system, was designed so sailors can explore the oceans of the world without causing them any harm. "Our main focus was to avoid local CO2 emissions", says Tomas Halmesmäki, the founder of the OQS boatyard. The elegant, sleek OE72 has two 100 kW Deep Blue electric motors that are powered by four Deep Blue batteries. And while at sea it also generates its own green, renewable energy through 4 kW solar panels and hydrogeneration. "It really is a green power plant of a boat," says Tomas Halmesmäki. The catamaran combines green engineering with an unprecedented degree of comfort. "To me, the most important differentiator is the silence and autonomy," says Halmesmäki. "Thanks to the solar panels and hydrogeneration you don't need generators. You can stay at sea for long stretches and enjoy the silent hours" – and blend in with the natural surroundings. This peace and quiet doesn't come at the expense of comfort, as the OE72 is equipped with multimedia systems, a double fridge, air conditioning, and other amenities.
3. FORM FOLLOWS FUNCTION
When an electric catamaran glides past you at high speed and without any noise, it might look like a mirage – all sharp lines, angles and logic, like a modernist piece of architecture that got bored just standing around and decided to travel the world. But the real beauty lies in the underlying physics equations.
When the legendary motorboat manufacturer Frauscher planned its new all-electric day-cruiser TimeSquare 20 (= 20 m2 of free space), "it quickly became clear that nothing could be more efficient than a catamaran in view of the boat's intended size and speed," says Harry Miesbauer, a naval architect at Frauscher. The twin-hulled design reduces the boat's underwater area, which in turn reduces drag. That's why the two Torqeedo Cruise 12.0 motors that are cleverly integrated into the twin-hulled design can propel the 8.30-meter-long and 2.50-meter-wide catamaran at a top speed of 26 km/h and with a range of up to 110 km at 10 km/h. Catamarans and trimarans have a lighter construction and are more efficient than conventional monohull boats, which is true of both small day cruisers and +30-meter bluewater catamarans. This is a major advantage for electric propulsion systems, as less power is required to propel the boat. It also means the capacity of the batteries can be better utilized and the range of the boat increased. The TimeSquare is the first catamaran in Frauscher's 100-year history. And it probably won't be the last.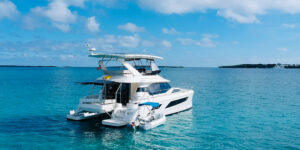 4. INTUITIVE CONTROL AND COMFORT
Torqeedo electric motors famously offer direct torque and perfect maneuverability. This intuitive control is even enhanced in new multihull vessels like the Aquila 44, a 44-ft power catamaran. Its twin hulls and 21-ft beam offer perfect stability in all sea states and the boat can be handled by one person without a crew. In 2019, the catamaran was refitted with twin Deep Blue motors and a 5.6 kWp array of solar panels. Maneuvering in a harbor or marina is also easier with a catamaran because of the dual motors. It's the perfect set-up for people who want to spend their vacation time on the water.
Catamarans certainly offer lots of comfort benefits. They are more stable than monohulls and do not heel. A catamaran steers very comfortably and seasickness is rarely a problem. If you're on a catamaran, you can put your glass of wine down and not have to worry about it tipping over. The Aquila 44 is a perfect example of the right balance between sustainability and comfort. The solar panels deliver up to 20kW in an average day, enough green energy to keep the AC running – with no guilty conscience.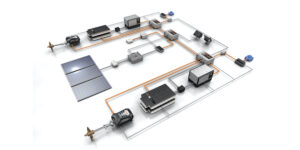 5. R&D IN MOTION
During long ocean crossings, the captain and crew of high-tech, high-performance catamarans are on their own, much like astronauts on their way to the Moon. This is why it is essential that the crew, the yacht, and its operating system are perfectly synchronized.
Electric bluewater catamarans like the OE72 are cruising R&D labs for testing new materials and systems. Ultimately, the larger maritime community profits from the innovation – just like the Apollo program in the 1960s brought us freeze-dried food and modern solar cells.
Only a couple of years ago, electric-hybrid propulsion was a feat that only could be realized for a select few custom-made sailing yachts. Today, Deep Blue Hybrid is a ready-to-use solution for a much broader target group. The same thing goes for innovations like the automatic hydrogeneration mode of Torqeedo electric motors, that uses smart algorithms to find the highest torque the propeller can run at any given time – and thus maximize the energy yield.
New battery technology, automated systems, smart materials. The next few years will see a range of innovations for more sustainable, efficient and comfortable time on the water. And bluewater catamarans have a crucial role to play. That's another thing the beautiful, elegant multihull boats have in common with space travel – they go where no one has gone before so everyone else can have a smoother ride.
For more information visit www.torqeedo.com/en