ICE YACHTS and the Felci Yacht Design team have joined forces once again to produce one of the most exciting and innovative new models for 2023.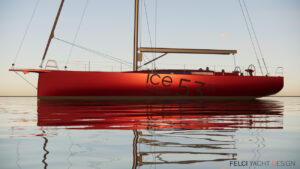 The New ICE 53 Sport Tourer (ST) will have an exceptional pedigree as a racer that can equally be enjoyed for fast cruising in a high degree of luxury and comfort.
The mission is to significantly improve the already high performance of the ICE 52RS and make the new ICE 53ST one of the finest and fastest boats in the 50-foot performance-cruising category.
In the words of Ice Yachts CEO Marco Malgara: "We have in the pipeline a boat that is not only beautiful and very well finished, but is also light, fast, competitive and at the same time comfortable. Top of the market."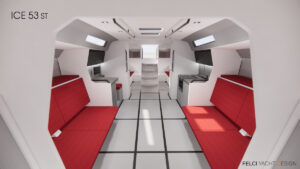 FULLCARBON construction, INNOVATIVE and ESSENTIAL design, HIGH TECH Interior
Compared to the "standard RS " version, the ST has a weight reduction of more than two tons, with an approximate dry weight of 10 tons and a sail plan implemented both upwind and downwind.
The hull is laminated with epoxy resin, by infusion of quadriaxial and unidirectional carbon fibres with local reinforcements. A 3-step epoxy infusion technique will be used to laminate the hull skin, while the core will be a closed-cell, vacuum-bonded PVC.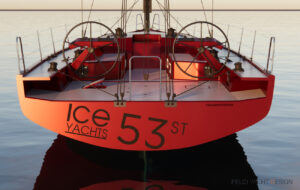 The keel will be a new custom design made of Weldox700 steel with a draft of 3.4 m. The rudder with carbon blade and shaft, will be elongated and with a reduced lateral surface, thus ensuring excellent control even when the boat is heeled or heavily loaded. Attention to safety remains a central theme in both design and construction.
Compared to the 52RS the deck equipment is obviously adapted to the needs of the owner, the mast will be in high-modulus carbon developed in conjunction with Axxon's Racing Department.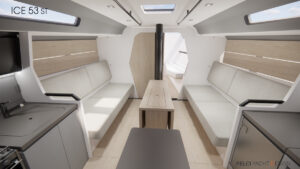 The interior layout is designed to be extremely versatile, switching easily from cruising comfort to the sporty racing mode. The interior finish will be a mix of white painted and faired surfaces with light composite panels, thus achieving significant weight savings compared to a traditional construction, without sacrificing the quality of joinery craftmanship, both in the refinement of finishes and in the excellence of details.
For more information visit performancecruising.com.au