The Boating Industry Academy was developed specifically for high school students interested in a career in the boating and marine industries. Young people in Years 10 to 12 are able to continue their schooling with the Australian Industry Trade College and start their school-based apprenticeship or traineeship with some of the best employers the Southern Hemisphere has got to offer.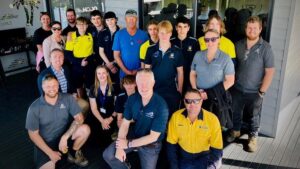 Based out of Coomera Qld, the Academy is currently enrolling for their next intake – July 2023. Interested students and parents can learn more, at the next Boating Careers Open Day on 30 May at 4.30pm.
The specialist program commenced in January 2023 on the Gold Coast (Robina) moving to a Coomera base, in the heart of the largest marine precinct in the Southern Hemisphere.
The initiative is supported by the Boating Industry Association Ltd (BIA), as well as industry partners Stella Marine, Lightwave Yachts, Telwater, Riviera and Gold Coast City Marina.
Click here to register