The Boat Works have welcomed the versatile 90-tonne expandable travel lift from Boat Lift in Italy – making them the first boat yard in the southern hemisphere to operate a lift of this kind.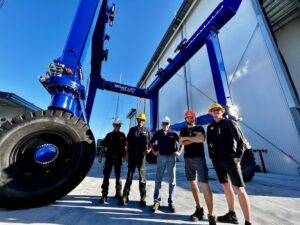 The Boat Works now has five machines operating over both yards, lifting every type of vessel up to 300-tonnes.
"To keep pace with demand, we decided to invest in this variable width, all-wheel drive machine," explained The Boat Works owner, Tony Longhurst.
"It has an adjustable beam width narrowing the vessels footprint from 8m down to 5.5m allowing the team to maximise the vessel set down footprint. This is brilliant for boat storage as we can go narrow for the narrower runways and use it for packing boats in tight spots."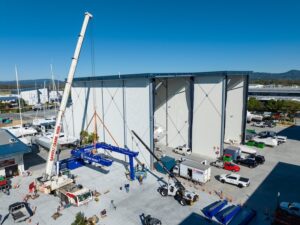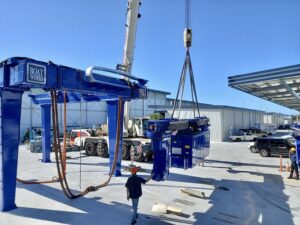 The machine boasts unique Dynamic Steering Control (DSC), which its manufacturer defines as "allowing seamless transfer between 4 modes with infinite adjustment between each to allow progressive adjustment of the radius of rotation".
"DSC is an innovative steering management system developed by Boat Lift. This system allows an operator to linearly move the axis of rotation in any position between the axis of the front wheels and the rear wheels. This makes it possible to significantly reduce the manoeuvring space required for the handling and storage of boats.
"Given a steering angle, the operator can also use it during the forward and backward movement of the travel to circumvent obstacles in a single manoeuvre."
The new 90-tonne Boat Lift is underway with commissioning and will be ready to haul-out boats in June 2023.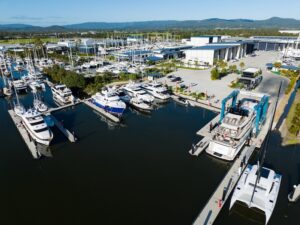 "The new Boat Lift gives us more flexibility, makes us more efficient and gives owners more options," said Tony Longhurst.
"We can lift wide multihulls and monohulls, and we can lift a lot more boats now. This new 90-tonne machine takes our service capability to a new level!"
For more information visit: theboatworks.com.au