Marine Rescue NSW has recorded a record number of rescues over the 2022/23 boating season.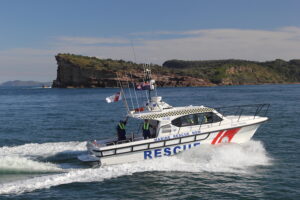 Marine Rescue NSW volunteers across the state from the Tweed to Eden and on the inland waterways of the Alpine Lakes and at Moama were involved in a record 3,263 rescue missions from October 1, 2022 to ANZAC Day this year.
This season's figure was an increase of 1.3% on the previous record set during the first year of the COVID-19 pandemic in 2020/21 while emergency missions increased by 7% to 897.
Marine Rescue NSW Commissioner Alex Barrell said volunteer crews returned 7,472 boaters to shore during the season.
"It's been a really busy summer for our members and we have seen a consistent theme across a lot of our rescues.
"We continue to see a lot of boaters running out of petrol, experiencing mechanical and engine failure and our message to boaters is to continue to check your equipment, make sure your boat is in good working order before you head out and importantly always check the weather conditions," Commissioner Barrell said.
57% of rescue missions were for engine problems, flat batteries or fuel issues.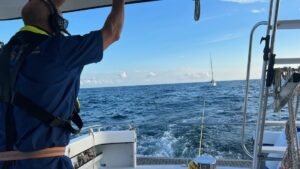 Marine Rescue NSW also saw a large increase in the number of boaters Logging On with the service.
Commissioner Barrell said 48,379 Log Ons were recorded over the boating season.
"On the back of our Marine Rescue crews being really busy this summer it's been great to see more boaters Log On with Marine Rescue.
"We've seen an increase of around 20% of boaters Logging On over VHF marine radio or through the Marine Rescue app.
"It's really important that any boater that goes out and about particularly in the offshore environment takes the opportunity to Log On with Marine Rescue and that's whether it's over the VHF marine radio or through our free Marine Rescue app.
"The fact that you Log On and that Marine Rescue is tracking your voyage means that if you don't return as planned rescue services will start looking for you," he said.
Marine Rescue NSW radio operators managed 156,244 radio calls over the season with a large portion answered by the Marine Rescue Sydney State Communications Centre.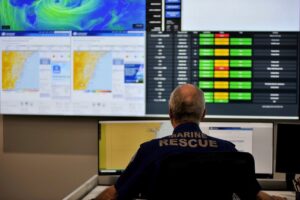 53 of those calls were Maydays where lives were in imminent danger while 44 Pan Pans were received from boaters in an urgent but non-life threatening situation.
Commissioner Barrell praised the work of volunteers across Marine Rescue's 46 units who played an important role of keeping boaters in NSW safe.
"I want to commend all Marine Rescue NSW volunteers for their thousands of hours of dedicated service to keeping our coastline and waterways as safe as possible this summer," he said.
Of all activities being undertaken during the season's 3,263 rescue missions, 46 per cent involved boaters either fishing or cruising.
"We're so lucky have great waterways in NSW, we love seeing boaters out there and enjoying them," Commissioner Barrell said.
"We just ask that they continue to do it safely, focus on safety, focus on the weather conditions and enjoy our great waterways," he said.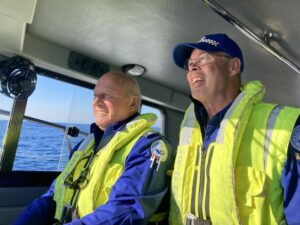 Boating Season Breakdown – Three busiest units in each zone* – October 1, 2022 to April 25, 2023
NORTHERN RIVERS
Point Danger: 101
Iluka Yamba: 44
Ballina: 33
MID NORTH COAST
Forster/Tuncurry: 70
Port Macquarie: 59
Coffs Harbour: 39
HUNTER/CENTRAL COAST
Lake Macquarie: 465
Port Stephens: 206
Central Coast: 187
GREATER SYDNEY
Botany Port Hacking: 262
Port Jackson: 186
Middle Harbour: 152
ILLAWARRA
Port Kembla: 97
Jervis Bay: 88
Sussex Inlet: 48
MONARO
Batemans Bay: 75
Eden: 32
Bermagui: 24
For more information visit www.marinerescuensw.com.au