The #UnitedByYamaha Brand Campaign has been awarded the inaugural Yamaha Motor Australia Group Award.
The honour, awarded for the first time in 2023, recognises outstanding projects and business activities being undertaken by all departments across the YMA group, as well as acknowledging the efforts of those who bring these initiatives to life.
Announcing the winner, Yamaha Motor Australia Managing Director, Mr Tom Okamoto, said each of the entry submissions received was of the highest standard and demonstrated the key project criteria, including a sustainable and material impact for the business, a reflection of the unique style of Yamaha, innovative business solutions, and globally transferrable applications.
"While each team contributed a worthy effort for this first Yamaha Motor Australia Group Award, the winner selected for 2022 is the Corporate Branding Campaign #UnitedByYamaha," Mr Okamoto announced. "This project addressed each of the key requirements, was delivered with an exceptionally high degree of professionalism, and presents an opportunity for subsidiaries around the world to adopt the concept to showcase how Yamaha unites its customers, dealers, employees, and communities within the context of their unique markets."
Accepting the award on behalf of the Corporate Branding team, Ollie Sharp, Brand & Content Marketing Manager, said the award was beyond the team's expectations. "To have the #UnitedByYamaha brand campaign not only considered as a finalist, but to be chosen as the winner for the inaugural YMA Group Award is an honour," Ollie said. "Even though the campaign exists within Corporate Branding's remit, the only reason we have been able to get to this point is through support, collaboration, and effort across the business, not only by department heads and staff but also family members, everyone has contributed in some way to this award."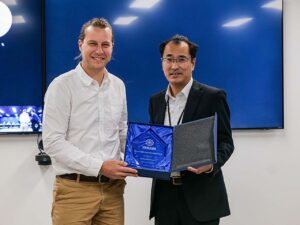 In addition to the #UnitedByYamaha Brand Campaign film, the Corporate Branding team also produced six supporting short stories which reveal Yamaha's commitment to its sustainable development goals (SDGs) and Long Term Vision (LTV) through support and sponsorship of local companies, environmental initiatives, and Yamaha dealer partnerships.
Visit the #UnitedByYamaha web page to learn more, watch the supporting films, and join the Yamaha Tribe to be kept up to date with the latest happenings within Yamaha Motor Company.