Hervey Bay is set for a wonderful display as the four classes in Offshore Superboat Championship (OSC) take to the water over the weekend of June 24 and 25.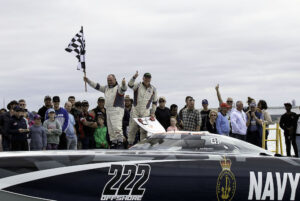 It is also an important milestone, as it officially marks the beginning of the collaboration between the Australian Offshore Powerboat Club (AOPC) that organises the OSC, and Ski Racing. Commodore of the AOPC, Antony de Fina, commented, "This really is fantastic news. We are very, very excited. In the future there'll be even more action out on the water across both days, and the pit area will also be more alive with all the comings and goings."
"At Hervey Bay, some of their Formula One and Formula Two boats will compete in our races. The necessary permits were not granted in time for their own round, but moving forward their races with driver, observer, and skier going around a 5km course will certainly add to the whole event."
Water ski racing utilises 19 to 21-foot monohull vessels, Formula One is unlimited, but typically runs up to 1550hp from one twin-turbocharged Mercury Racing inboard V8, and then Formula Two has a single 300hp V8 outboard. The IWWF World Championships for skiing are to be staged in Gosford this November, with selection occurring prior to that. Ski Racing is very keen to get in as much practice as possible before that.
Scott Cleaver is the Ski Racing Queensland delegate to Ski Racing Australia. Apart from being a local resident and operator of Bay City Marine, Cleaver is also the main person behind the skiers combining into the OSC. "It is simply a wonderful opportunity to join in and also share divers, safety crew and so forth, as well as making a bigger event for all to come and see."
"Being able to showcase both disciplines together is quite exciting. We have Juniors, Women's and Men's divisions. We are capped at 110mph, and in the right conditions this can certainly be achieved." Cleaver's own two-boat team comprises of one F1 vessel for each of the Women's and Men's divisions. His team is one of those that are taking part in Sports 85 and Sports 65 classes this weekend.
Reflecting on his own racing, de Fina added, "Matt Kelly and I are very keen to get back out there with Saracen. We have done some testing and tuning with the boat since Geelong, and think we have ironed out a lot of our teething problems with the new Mercury Racing 300hp four-stroke V8s. So it is time to get back out there and see if we cannot take some of the venom from the Sting's tail this time, after their great efforts in Rounds One and Two."
"We also have a lot more Queensland competitors in the Sports Classes appearing this time, so they will be very closely fought over, and we hope no one gets too excited and breaks out past their 65 or 85mph speed limit and either loses points or gets retired completely. It is never a good day for a team when that happens."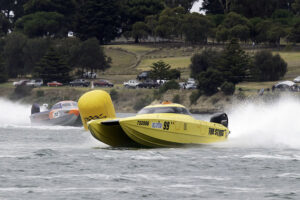 In the Sports 65 Class, the current leaders are Team Gigglin on 170 points. Father and son crew Mark and Liam Sutherland are a delightful mix of relaxed, competitive, hilarious, and serious, and we are pretty sure the latter is only reserved for time out on the water or when preparing their craft.
Mark Sutherland said, "Yes we are coming to Hervey Bay!! We are very much looking forward to making the 2000km journey up to beautiful Hervey Bay to continue our push to defend our title. We have had a great start to the season and can't wait for this next round. The competition has been very tight this season, and hope that this continues in Hervey Bay, as it makes for very exciting racing. We have continued to make small adjustments to our set up, primarily working on better balance in the boat, and hope they will give us a small edge on our opposition."
Currently holding second place down in the Sports 65 Class are Andrew Pike and Shannon Porter in Slick 21. They commented about the impending round, "We are very excited for the challenge of racing a new course, and also the change of scenery, as this will be our first-time racing at Hervey Bay."
"We're travelling from Geelong, so the warmer weather will also be a bonus for us. Fingers crossed! Team Gigglin will be tough competitors to beat, and we are both looking forward to good racing and catching up with some good friends"
Superbad. The team with the joie de vivre that is just so infectious, they even have a good time when backing the trailer into the parking slot. However, just as we have said in their team profile, do not forget the champion spirit that lies underneath. Ciarne Coleman said, "The team has been busy getting the boat ready for Hervey Bay. The boat has a complete new trim system, new rudder and steering set up and a couple of other little things. A fair bit of work has gone into the change of the boat setup."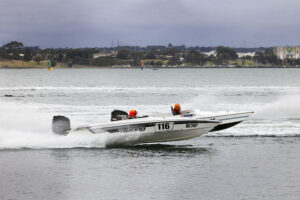 The Hervey Bay Round of the 2023 Offshore Superboat Championship is supported by the Fraser Coast Council, Hervey Bay Boat Club who provide support boats and the host the annual meet and greet event, Pier Caravan Park and the Gilbert family, also Wide Bay Cranes, who have been with us for all 12 years that we have been coming to Hervey Bay.
"The Fraser Coast is known for its lively and varied calendar of events," Fraser Coast Deputy Mayor Denis Chapman said.
"We are developing a reputation as a centre for hosting events, whether it is state hockey or rugby competitions, exhibition football matches, state, national and world sailing champions and powerboat racing."
"There is so much happening that there is something for everyone nearly every weekend."
"On behalf of the Fraser Coast community, I wish the competitors great racing conditions."
The Hervey Bay round begins on Satruday at 1145am there is the 30-minute race for the Sports 65 and Sports 85 classes, and then one for Supercat Outboard and Supercat Extreme classes conducted at 1245pm. At 330pm there is the Competitor's and Hot Rod Street Parade.
On Sunday, racing commences at 1140 with the second race for the Sports 65 and Sports 85 classes is conducted, then at 1230 it is the Supercats once more, before presentation of trophies back at the pit area at 230pm.
For more information visit superboat.com.au