BIA has launched a Sustainability in the Boating Industry Award, designed to recognise companies or individuals who have demonstrated outstanding efforts in promoting environmentally responsible practices within the boating industry.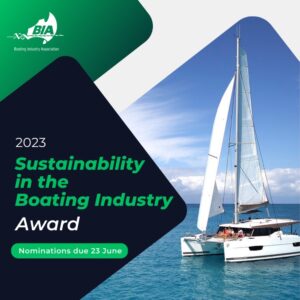 Nominations are invited for outstanding achievements covering the following criteria:
Reduction of waste and pollution
Use of materials and manufacturing processes to reduce environmental impacts
Contributing to emissions reduction
Implementation of sustainable business practices
Contributing to sustainability of waterways and aquatic life.
Note: nominations can be made to a single criterion or any combination of the above criteria.
Nominations should be headed Response to the Criteria and be no more than 500w and cover:
How it responds to a singular criterion or multiple criteria (above)
When the effort was initiated
Why the effort was initiated
Duration of the effort eg., has been running for X years/ months
How many staff/ team members involved
Quantify the outcome/ benefits eg., waste or emission reduction by volume, reduction in landfill etc
The name, age, residential address and contact details of the person nominated to receive the award.
Additional supporting evidence including quality photographs and video can be provided as attachments to the Response to the Criteria.
Nominations are to be delivered by the deadline of 23 June 2023 by emailing
The winner will be announced at the Sydney International Boat Show in August where they will receive a trophy and certificate, as well as $2000 towards travel to a major marine or sustainability event.
Why does this Award matter?
A 2023 industry report into the expectations of younger boaters when buying a boat made the following points about sustainability:
Younger consumers are willing to pay a premium for sustainably made products
The boating sector should consider emphasizing four factors that could help sway younger demographics:
– customer experience improvements,
– product ease-of-use enhancements,
– sustainability advances, and
– service integration and business-building initiatives
Environmentally conscious younger consumers will expect decarbonization of manufacturing processes (perhaps coupled with manufacturers' purchases of carbon offsets) and reduced emissions during vehicle operation (with electric propulsion a key selling point)
Forty percent of millennials are concerned about the environmental impact of their boats (compared with 28 percent of Gen Xers and 24 percent of boomers)
60 percent of millennials would be interested in an alternatively fuelled recreational boat (compared with 45 percent of Gen Xers and 33 percent of boomers)
Millennials are now the most populous consumer group in the United States (having surpassed boomers in 2019), and the research suggests they will remain the most substantial consumer set for recreational boats and vehicles until roughly 2036, when Gen Z is expected to overtake them.
So sustainability matters and so does boating. These are just some of the reasons the Sustainability in the Boating Industry Award will be announced at the Sydney International Boat Show.
For more information visit: www.bia.org.au