The International Council of Marine Industry Associations, ICOMIA, appoints Joe Lynch as new CEO. The role is new, succeeding the previous ICOMIA leadership position of Secretary General.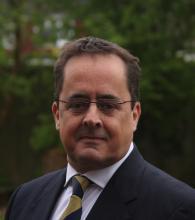 Lynch comes to ICOMIA from a long career in the tourism and charity sectors. A digital marketing specialist, he was the Marketing Director for various Tui Travel brands before being appointed Commercial Director of the Youth Hostel Association (YHA), driving membership numbers up, modernising the brand, and raising the charity's profile.
Having been involved in the marine industry for much of his career, including time as a water sports instructor, training and flotilla manager as well as commercial and general management roles in inland waterways and coastal charter companies, he continues to race yachts on the south coast of the UK.
Lynch will take up position on 15 June 2023 when the Acting Secretary General of ICOMIA, Tony Rice, steps down after resuming the role from his retirement late last year.
"We are delighted to welcome Joe to ICOMIA to help build on the excellent foundation our members have created in order to promote, protect and grow the recreational marine industry." Said Tony Rice, Acting Secretary General of ICOMIA
"It is a great pleasure to welcome Joe Lynch as the first CEO of ICOMIA. We have set an ambitious future vision for ICOMIA with the recent release of our strategic plan and are confident that Joe's leadership and experience will continually develop and improve ICOMIA's profile, services and performance in the best interests of our members." Said Darren Vaux, President of ICOMIA
For more information visit www.icomia.org
To keep up to date with all marine industry news visit www.marinebusinessnews.com.au