Volunteers at Marine Rescue Brunswick will receive a new supply of Personal Protective Equipment (PPE) to assist with their mission of saving lives on the water.
Brunswick Unit Commander Jonathan Wilcock was presented with a National Australia Bank Foundation grant of $8,500 at Marine Rescue NSW State Headquarters in Cronulla recently.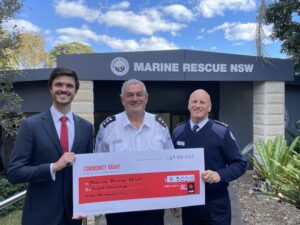 NAB Senior Private Client Manager David Novakovic said the Brunswick unit was a deserving recipient of the Community Grant.
"It is fantastic to see the NAB Foundation continuing to support local communities and particularly organisations like Marine Rescue NSW that give so much back to their local community members," Mr Novakovic said.
The Brunswick Unit Commander said the money will be spent on important PPE for volunteers at the unit.
"Marine Rescue Brunswick is using the funding from the National Australia Bank Foundation for wetsuits, protective footwear and other clothing to keep our members safe.
"PPE is extremely important for our members in keeping them protected from the elements and conditions they are working in," Mr Wilcock said.
Mr Novakovic said the NAB Foundation was pleased to contribute to the vital life-saving service provided by the 62 volunteers at Marine Rescue Brunswick.
"The Brunswick unit is going to use this money to purchase Personal Protective Equipment to help keep their members safe and that is the most important thing at the end of the day," Mr Novakovic said.
Unit Commander Wilcock said he was grateful for the NAB Foundation's generosity.
"We are so thankful to the NAB Foundation for providing us with funds to protect our members in saving lives on the water," Mr Wilcock said.
For more information visit www.marinerescuensw.com.au
To keep up to date with all marine industry news visit www.marinebusinessnews.com.au