This year, 2023, marks the twentieth year of Maritimo, the luxury long range motor yacht manufacturer that has firmly etched itself within the very fabric of Australian business success stories. Twenty years is indeed a milestone and will be widely celebrated, but it will be done so without shifting the balance from always looking forward with vision for the future.
Maritimo, now with Tom Barry-Cotter at the helm of a team some 300 strong in this their 20th year will see the global launch of the most grand and spectacular yachts produced by the company to date – the glorious M75 Flybridge Motor Yacht and S75 Sedan Motor Yacht. These magnificent vessels are the culmination of three years of design and development and many hundreds of thousands of hours, committing a considerable investment by the company and its people in these vessels' creation. Twenty-year anniversaries are signified with the colours of emerald or white, quite fitting when one can imagine these vessels' imposing, yet sublime white forms, at rest on a glittering ocean of green.
To understand how Maritimo came to be we need to take a glimpse further back in time, prior to its formation in 2003. Let's go back to where the journey began and get a picture of the man who made it a reality. That man is Bill Barry-Cotter OM.
Bill was born post war to comfortable beginnings in the small NSW town of Adelong, at the base of the Snowy Mountains. His parents were very well respected in the community, as you'd expect from a School Ma'am and a local builder. It may well be that Bill would have followed his father's footsteps if it wasn't for a moment in time when, as a teenager, he experienced for the first time sailing a boat on Sydney's Pittwater. Certainly this new found passion for water and boats, coupled with his desire to work with his hands, led to a boat building apprenticeship at the age of 16.
By 19 he had already built his own boat and when his apprenticeship was completed, his new employer, Cedric Williams, was retiring and handed him the reins (and the tools). The year was 1966 and Mariner Cruisers was born with Bill Barry-Cotter its creator then only 21 years of age. (Anyone who was around in the 60's and 70's knows the name Mariner Cruisers and many of these fine vessels are still in use today). By 1978 Mariner had become the largest boat manufacturer in Australia and now 'ripe for the picking' Bill sold his interests that year to a multi-national firm and stayed on at the company for a further 12 months.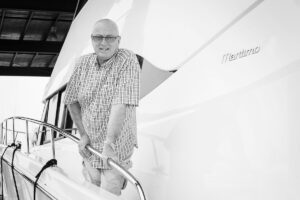 The departure from Mariner was the catalyst for the creation of Bill's next major venture and in 1980 Riviera was created. Many successes, accolades and successful models followed, along with major growth and acquisitions, notably Mariner Cruisers.
In 2002 Bill saw an opportunity and accepted an offer for a buyout of his ownership in Riviera from a private equity group, who were backing a consortium of Riviera Dealers. Riviera had grown over the last two decades to become the most prestigious boat builder in Australia, significantly with production numbers over 350 boats per year and an annual turn-over of $300M.
The offer however to stay on as R & D Consultant didn't sit well with Bill and a few days after the financial deal was done, he left the company that he had created and had built to such a grand scale. At 59 years of age, it was time to create something even better. Bill's vision and passion remained unquenched as he rallied to create a brand and a range of vessels that would define the market and change the boating landscape in Australia. In 2003 Maritimo was born.
The establishment of the Maritimo Headquarters at Hope Island in 2003 saw the 2004 creation of the highly successful Maritimo 60 long range cruising Flybridge Motor Yacht, which went on to win the coveted 'Boat of the Year' award by the Australian Marine Industries. The era of the internal staircase, walk-around decks, and aft galley, pioneered by Maritimo, had arrived.
Clearly no stranger to hard work and a 'roll up your sleeves and get on with it' mentality, Bill's vision and hard work had paid off early. The Maritimo 60 debuted at the Sydney Boat Show in 2004 to high acclaim, sales order books were filling up as the market embraced revolutionary features not seen before and that are still part of the winning Maritimo design and build formula of today.
Maritimo was on the map, the foundations had been laid and Bill Barry-Cotter's grand vision for Maritimo was beginning to play out.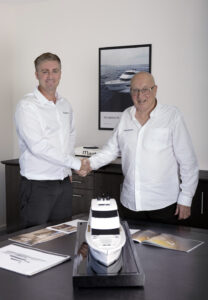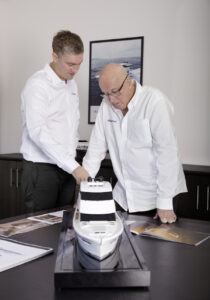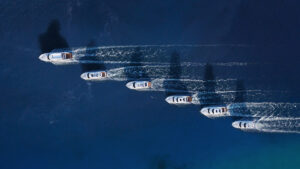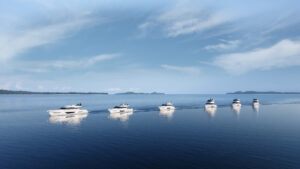 For more information visit www.maritimo.com.au
To keep up to date with all marine industry news visit www.marinebusinessnews.com.au