A classic Sydney trawler that operated for 30 years in Tasmania as Marconi's Cross out of Hobart is being given a new lease on life by the experts at Red Car Marine in the fortuitously named suburb, Goodwood in Hobart.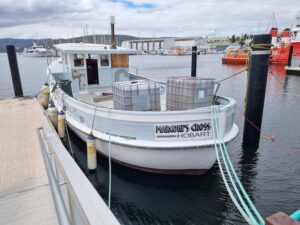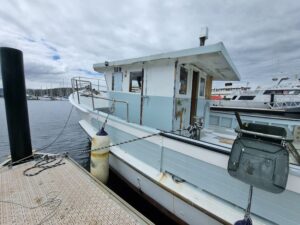 James Watson runs Red Car Marine and he and his team are meticulously restoring the 14.75-metre timber fishing vessel for its Sydney owners.
Built in 1948, the historic vessel is a veteran of tuna fishing, trawling and towing fish pens, before going up for sale.
As James explains, "Her new owners have commissioned a total refit, including the wheelhouse, aft lounge, sliding doors and interiors to turn it into a pleasure boat for cruising the Hawkesbury River, and eventually some passage making to the Whitsundays."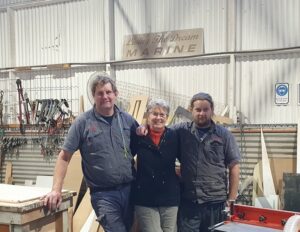 The design brief has expanded over time to include the aft lounge with covered awning, and below decks, berths in the foc'sle, and two additional berths in the fish hold.
James, a shipwright, drew up the plans, and with his two assistants, Dean and Paul, have set to work on the refit project.
"The bridgedeck is the first part," he says.
"Mark Richards who's acting as the owner's representative, and I chose to use composite board from ATL. The DuFLEX panels cored with 40mm Divinycell H80 Structural Foam are ideal for use on top for their lightweight and strength. They weight 50 or 60kg lighter than plywood and lining. Plus, the added advantage of ease of installation, cutting down labour time."
Custom built to meet the specific size and shape for the bridge deck, the DuFLEX panels will be shipped in eight parts and joined on site at Red Car Marine for optimum freight efficiency and handling.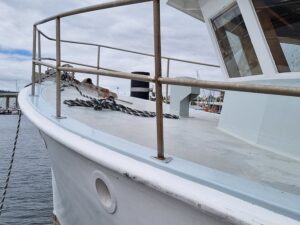 "We simply install the panel, fabricated with a specialty finish on the underside which results in no pinholes, and then go direct to sand and paint. It cuts down prep time by a truckload of hours. We are using exposed wooden beams underneath with the modern top for a really beautiful look."
James is a loyal advocate of WEST SYSTEM products, which he describes as "our go to products". He swears by 105 epoxy resin and 206 slow hardener, as well as Techniglue R15, a toughened, thixotropic epoxy paste with increased peel strength.
"ATL products are great quality, and the team at ATL provides good support and communication to tailor advice for each project. I've always found them very helpful. Tasmanian Marine Distributors – Distributors for ATL products – introduced us to Lorraine. We met her at the Australian Wooden Boat Festival and she's very personable."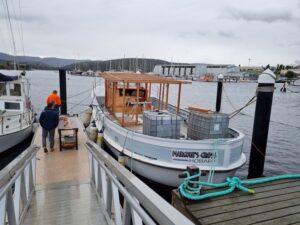 The Marconi's Cross restoration is on track to be delivered back to her owners in January 2024 in time for summer cruising on Sydney Harbour.
For more information visit atlcomposites.com.au