With predictions that the maritime workforce is 20,000 short of the industry's requirements*, Rivergate Marina and Shipyard is offering a much-needed solution.
Rivergate's upcoming major expansion will create opportunities for Queensland and Australia to become an international training hub for the superyacht industry through its proposed 5-storey trade centre.
Once complete, the trade centre will become an incubator for innovation and excellence in more than 25 marine-related trades and professional skills.
For Daniel Fodie, Director of Maritime Professional Solutions, the expansion, and Trade Centre cannot come soon enough.
Maritime Professional Solutions are based at Rivergate and are recognised internationally for their premier superyacht repairs, maintenance, and manufacturing services. They have also worked as project managers for refits on Border Force and Department of Defence vessels.
The superyacht and boating boom have created an increase in demand for the services of Maritime Professional Solutions and other businesses at Rivergate, but Daniel is concerned about being able to fulfill the refit needs of visiting vessels.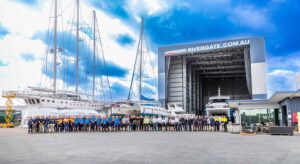 "We are definitely seeing an increase in demand as we've progressed through the pandemic, and I think a lot of that could be put down to our standing in the industry… even just by being based at Rivergate, we're increasing our turnover year on year with the exposure we're getting by being here," says Daniel.
"We have regular customers that we love to look after and being based at Rivergate, with them continually attracting new customers, it is important to make a good impression. Whilst you don't want to say no to work, you want to be maintaining the highest quality of work, and if you're just saying yes to every job that comes your way, it can undermine that quality and affect your businesses and the local industries reputation. You need to have adequate staff and time to complete the project to the highest quality standard."
With 18 staff in tow, Daniel and his business partner Joel Allingham are currently looking to bring on two new apprentices and potentially more full-time employees. However, the challenge now lies in finding people.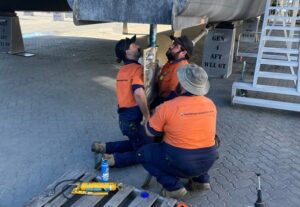 "We usually would call our recruiters, asking for fitters and welders and they're pretty good at knowing what we want," says Daniel.
"We used to get about a dozen resumes in the first week of advertising a job. Nowadays, it takes three or four weeks to get about two resumes sent to us. We're definitely noticing a skill shortage and overall labour shortage at the moment."
Daniel is excited at the prospect of Rivergate's 5-Storey Trade Centre being virtually on their doorstep, and says he looks forward to seeing the marina and shipyard transformed into a 'hub' – similar to those in the United States.
"Like you have in America, rather than just being a maintenance facility or a beautiful spot to berth, you actually become a hub that provides more value," says Daniel.
"You could have crew coming over here to study and increase their tickets, you could have trade training that supports the industry of our local area, and by training superyacht crews, you could get more worldwide attention. I have quite a lot of friends who work as engineers on boats and they're always taking time off to fly to Florida to do their next course, to get their next ticket and the Trade Centre would create a local, alternative solution for that."
Of course, the main drawcard for Daniel is to have the opportunity to hire the talent that comes out of the classrooms of the trade centre.
"With people coming through trade training at Rivergate, I imagine they'd be able to complete work experience within the shipyard and ideally, businesses onsite at Rivergate onsite businesses would be able and willing to provide the opportunities for people to get the start they are wanting in the industry," says Daniel.
*Rivergate's 5-storey Trade Centre will feature dedicated apprentice training rooms and the potential to establish a new Superyacht Centre of Training Excellence