Highfield Boats had an outstanding result at this year's Sanctuary Cove International Boat Show, 25 to 28 May.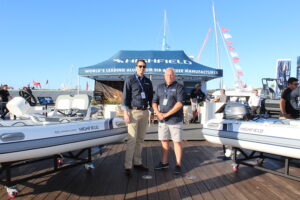 According to Peter Pembroke, Highfield Australia's National Sales & Marketing Manager, SCIBS 2023 was the brand's "best show ever".
"In terms of representation, we had 200-square-metres of stand space on Masthead Way, probably the best spot in the show for visitor traffic and visibility, with a great backdrop of the marina and palm trees.
"The weather brought out the crowds. We met people from all over Australia and plenty from New Zealand. Added to that, we achieved incredible sales, including to people who bought large motor yachts at the show, and strong leads we're following up on now."
Julien Carussi, Highfield Boats CEO declared the show "phenomenal" and said he was very proud that the display elevated the Highfield brand to great prominence.
"We have made significant investment in the business in recent years and to see Highfield showcased in a key market globally was very satisfying," he stated. "Given Highfield's history and ties to Australia, it was even more exciting."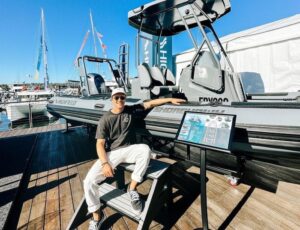 Highfield's national dealer network was well represented and included Sundance Marine from Victoria, Port River SA, RIBWorx WA, Lejen Marine from Northern NSW and Marine Co from Southern NSW.
This was Highfield's first boat show with newly appointed Queensland dealer and long-time exhibitor, Northside Marine.
Chris Steffens, Highfield specialist at Northside Marine said SCIBS 2023 was a great boat show.
"It was great to have 13 models on display from the 230 roll-up to the 660 Sports and Patrol.
"We enjoyed interest from the sailing community and leisure boaties, as well as from the larger motor yacht manufacturers and dealers for Highfield boats as tenders.
"The comments were all very positive, praising the build quality and design, the longevity and the extensive range. There seems to be a Highfield for everybody and every purpose, from the roll-up models to the 9-metre sports boats."
Also attending SCIBS 2023 on behalf of Highfield were brand Ambassadors, adventurer Nick Fry, sailing media proponent, Nic Douglass, explorers Jessie and Michael Cripps from SV Popao.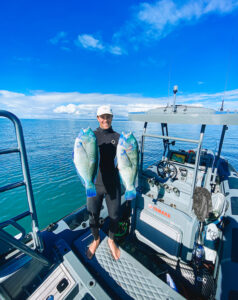 As Nick Fry, who owns a Highfield Patrol 660 explained, "It was my second time attending SCIBS; the first time was when I met Peter and the team at Highfield and we discussed plans for my build.
"A year later it was incredible to have my Highfield all finished and on the stand."
Nick's Highfield is the customised Patrol 660 he called "Shorehawk", and which he uses for his remote exploration which he documents on his YouTube channel which has more than 1.6 million subscribers.
Built to commercial standard, the Patrol 660 will withstand anything nature and its owner can throw at it.
The hull is built from 5083 aluminium plates with 6 and 10mm stringers. With its super deep-V hull with keel guard, wide chines and large diameter tube, it delivers high manoeuvrability, safety and a soft, dry ride, even in the roughest conditions.
Nick said there was enthusiastic response to his tricked-up Patrol 660 powered by an F200 Yamaha engine, which is quiet and smooth.
"The two days I attended the show I was met with fans of my online adventures who had lots of questions and took heaps of pics. I often receive comments and messages about how cool the new boat looks."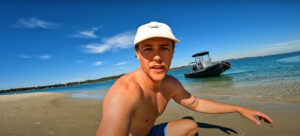 Since taking delivery, Nick had added equipment and gear for his off-the-grid adventures including installing a reinforced T-top, solar panels, fold-out table, a fridge, hammock and storage for his dive gear, spear fishing, wet suits, cameras, esky and swag.
"I have been out a fair few times since the boat show and still get amazed by how well the Patrol 660 handles all weather conditions. It has been awesome, spearfishing and camping some local spots close to home [Brisbane]. In the past few days, I have speared some huge blackspot tuskfish. It's been a dream fish of mine to catch fish this size.
"The next trip is in a few weeks. With my partner, Leana, and kelpie pup, Vixie, I will be towing the boat to far north Queensland and diving and fishing the hot spots along the coast. This trip will really put the boat to the test and I'm very excited to see how it goes."
For more information visit highfieldboats.com.au