Sirocco Marine had a fantastic four-days at this year's Sanctuary Cove International Boat Show, selling across their RIB brands including Zodiac Boats, with their largest display in 18 years.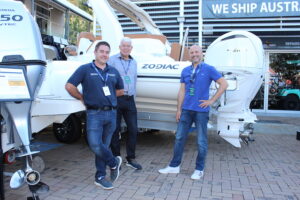 Along with Williams Jet Tenders, Northstar and the Sirocco brand of RIB tenders, there was a total of 20 Zodiac RIBS on display spanning 3 to 9 metres, including the Australian launch of the all-new Medline 9.
"It was great show, fantastic weather, people were in a good mood and we sold a lot of boats," stated Neil Webster, Managing Director.
"We were thrilled at the interest in Zodiac. People were happy to see the brand back and in such numbers, and I think they were very impressed with the new models. We had particular interest in the larger models and sold several of the 9-metre Zodiac Medline."
Also popular was the range of Sirocco RIB tenders. "They were being bought by people who had just purchased a large motor yacht, which was very a positive sign," Neil commented, adding "Now the real work begins; we have an enormous number of leads to follow up on from all parts of Australia."
Joining the Sirocco Marine team from the Zodiac Nautic headquarters was Sales Director Gabriele Ferlazzo who visited Australia to experience SCIBS 2023, before heading to Sydney.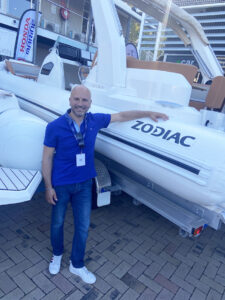 Gabriele commented on the vibrancy of the Sanctuary Cove Marine Village, which he said was the ideal venue for a boat show.
"The best thing about this boat show is the location and the weather. It was just beautiful," said Gabriele, who's based in Italy.
"In winter there, nobody is thinking about boating and enjoying the water! Sanctuary Cove is so beautiful and everybody is excited to think about holidays and pleasure, so they are more excited to embrace the products."
He observed there was a lot of interest in the bigger boats in the Zodiac Medline range. "People are interested in the larger models, the 6.8 and the new 9-metre model that the Sirocco team has sold – which is great news!"
In Sydney, Gabriele was treated to front row seats at the Vivid Festival, enjoying the light show from the exclusive vantage point of Circular Quay and the Harbour from the comfortable seating aboard the Zodiac Medline 9, which had special permission as a commercial craft to enter the restricted zone.
Among the many delights of Sydney, Gabriele nominated the marvellous food and coffee, as well as the brilliant boating lifestyle of the Harbour and waterways.
"It's perfect for Zodiac RIBS, for getting around with ease, no matter what conditions, and for spending the day at one of the beaches or waterfront restaurants around the Harbour, which even in winter is spectacular."
Next on the calendar for Sirocco Marine is the 2023 Sydney International Boat Show, 3 to 6 August.
"We will be exhibiting some brand-new BRIG boats which have begun to arrive from Ukraine," said Neil. "There will be several models, including the popular BRIG Eagle 8, the 8-metre. BRIG is very well regarded and people tell us they are looking forward to seeing them at the Sydney show."