Wyld About Boats has become the first Queensland dealer for the Apex brand of rigid inflatable boats, signing with Australian distributor, JR Nautical Imports at the 2023 Sanctuary Cove International Boat Show.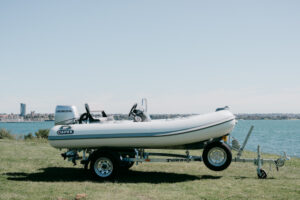 Made in Costa Rica, the Apex range comprises dozens of styles and numerous customisable options. The brand was founded in the US by Roger Dherlin in the 1980s, relying on his background in shipbuilding. In the 90s, to accommodate growing international orders, he relocated the factory to La Garita in the Central Valley, close to the capital San José. Recognised as having one of the best climates in the world, mild and relatively dry all year round, which is crucial to the bonding process, and access to a reliable workforce and supply chain, the Apex factory also manufactures tenders and sport fishing boats.
"They are a high-quality build, using European ORCA Hypalon," explains Chris Zois, Director at JR Nautical Imports, based in Queenscliff, Victoria.
"I have great communication with the owner and management and I'm confident that Apex will suit the Australian boating lifestyle.
"At Sanctuary Cove Boat Show, we were pleased with the response to the range of Apex RIBs we had on show. Hayden Wyld from Wyld About Boats on the Gold Coast took four of the boats and is already having success with them locally."
Established at Arundel on the northern Gold Coast since 2006, Wyld About Boats sells new and pre-owned vessels and is a certified Mercury service centre specialising in rigging and preparing boats for owners.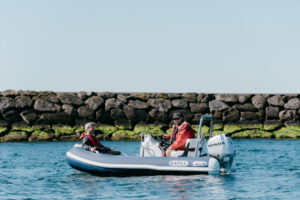 Hayden Wyld says the excellent quality and range of Apex appealed to him immediately.
"There is great diversity in the range, from small RIBS up to 40-foot commercial boats, which are ideal people movers for resorts or tourism. They can be customised to suit all sorts of applications and they are extremely well priced."
Hayden and his team of three sales and service professionals are looking forward to promoting the boats in South-East Queensland, including boat shows, database marketing and open house display leading into spring.
Further north, Rick Tischler at Armour Yacht Care in Port Douglas is also representing the brand, with access to the superyacht and commercial yacht charter market in Far North Queensland.
"Apex are tailor built to suit owners," he said. "They're durable and look great on the water. All superyachts require a tender, some of them have more than two or three on board. Every yacht needs a tender. We feel Apex will hit the mark up here."
For more information visit wyldaboutboats.com.au
To keep up to date with all marine industry news visit www.marinebusinessnews.com.au