Australian-based brokerage, Torrens Luxury Collection (TLC), has established an office in Monaco for the next few months, attending yacht shows and working with clients to find their dream yachts.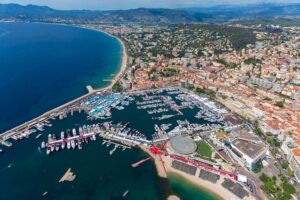 Off the back of a successful stint in the Greek Islands where they matched clients with their ideal superyachts, Mitchell and Grant Torrens are now based in Monaco and welcoming clients to share the full VIP experience on the French Riviera.
"We meet clients with limousines as soon as they alight from the chopper from Nice," says Mitchell, Director at TLC.
"Then after they've refreshed at their hotel, we accompany them to the brokerages and boat dealers in our network. When the Cannes and Monaco yacht shows begin, they have VIP access to meet the brand representatives and inspect the yachts they're interested in.
"Being based in Monaco through summer gives our valued clients unprecedented VIP access to the best selection of brokerage and new build opportunities in Europe. We are thrilled to welcome clients to both shows and between shows to inspect the vessels that best suit their needs."
The first yacht shows of the European circuit begin with the Cannes Yachting Festival 12 to 17  September, followed by Monaco Yacht Show, which runs 27 to 30 September in the spectacular marina of Port Hercule.
This year's Cannes Yachting Festival will feature 650 yachts, from electric tenders to superyachts of 73-metres, new and brokerage boats, lifestyle and luxury accessories, nav equipment and more, with more than 600 exhibitors on water and within the Palais exhibition centre.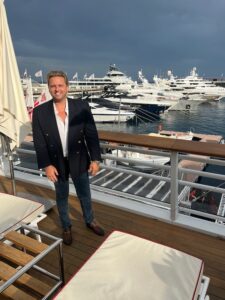 "Cannes has become the best brokerage yacht show in Europe for yachts from 70 to 160 feet," states Mitchell. "It also offers the largest selection of European brands both new and brokerage on display, and a vast array of watertoys and gadgets that make yachting so much fun."
TLC has made its base in Monaco over the European summer and into autumn, "the ideal location between the French Rivera and the Italian coastline," explains Mitch.
In late September, the Monaco Yacht Show hosts the world's largest display of superyachts, this year presenting 120 of the best superyachts and megayachts on the market. This year's MYS will also celebrate the inaugural The Honours Awards, recognising the craftspeople, engineers, owners, crew, scientists, philanthropists and adventurers within the superyacht industry.
"The French Riviera and the Med are buzzing this time of year and the yacht shows extend the season well into October," says Mitchell.
"We encourage people who are interested in finding out about owning or chartering a superyacht to get in touch and make the trip to Europe where we can provide the pinnacle VIP experience."
In between the two yacht shows, there is an exciting calendar of events to enjoy: from World Cup Rugby, to outdoor music festivals, art exhibitions and attractions open year-round.
From his 19 years of making the pilgrimage to the South of France, Mitch recommends flying into Nice, itself a fascinating city and home to galleries, artists' enclaves, boutiques and restaurants, before taking a helicopter for the scenic trip to Cannes.
"After exploring the coastline to from Eze to St Tropez, Provence is just a short chopper ride, or drive for some of France's most incredible wines," Mitchell continues.
When it comes to getting down to yachting business, Torrens Luxury Collection occupies a privileged niche, and is able to connect clients with the leading European brands.
"Being one of the only yacht brokers to own a Mangusta, I have a special connection with the brand, its world-class pedigree and build quality," Mitchell explains. "Their shallow draft makes them perfect for getting into remote places close to the beach, whether that's St Tropez or the Whitsundays.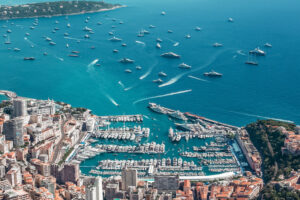 "The Rolls Royce Kamewa Jet Drive propulsion technology is years ahead of its competitors, and the ability to reach high speeds means owners can include multiple destinations in their itineraries. We know from speaking with our clients that the biggest luxury for them is time."
For TLC clients, they are guaranteed access to a global network of associates and exclusive premium listings.
"We have access to many yachts that don't reach the market, as well use of market intelligence and forecasting," he says. "Our decades' long relationships with European and US brokers means we can source options that are the best in class, including brands like Feadship, Benetti, Amels, Westport , Riva, Pershing, Princess, Sunseeker, Lazzara to name a few.
"Pantaenius Monaco offers out clients Mediterranean comprehensive insurance cover, and we can tailor the policy to suit whether you're enjoying the boat privately or chartering to make an income."
For tenders, TLC has ties with Mike Marine, the Williams Dealer for the South of France and Italy.
"Many of our clients are seeking the best tenders available for their family and friends to enjoy. We can source the perfect custom tender for the client's needs and requirements."
In addition, TLC has a network of Port Marina Managers who can arrange exclusive berth options in desirable locations such as Monaco, St Tropez, Antibes, Cannes, Portofino, Ibiza and Palma, among many others.
"That is the TLC difference," states Mitchell. "We have been operating in this region and in all forms of brokerage and charter for 30+ years. Our solid and reputable network extends worldwide. Clients have full access to this array and depth of services, supporting their purchase and realising their yachting dreams."
For more information visit torrensluxurycollection.com
To keep up to date with all marine industry news visit www.marinebusinessnews.com.au