As dusk fell across Australia today, Tuesday 25 July, landmarks lit up in a deep blue to both remember those who have been lost to drowning, and as a reminder that "anyone can drown, but no one should".
World Drowning Prevention Day is a globally recognised day, where we all pause to think of the estimated 236,000 people lost to drowning annually as well as those who are left with life-long disability as a result of non-fatal drowning.
Royal Life Saving Society – Australia Chief Executive Officer Justin Scarr said the United Nation's declared World Drowning Prevention Day provided everyone in the community a chance to reflect.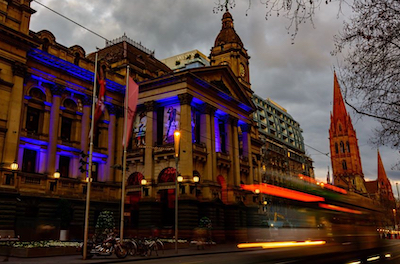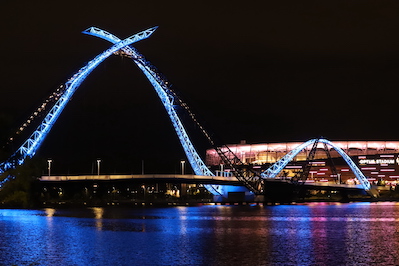 "Drowning does not discriminate; whether you are eight months old or eighty, living in a capital city or a country town, drowning is a significant risk," Mr Scarr said.
"World Drowning Prevention Day is a chance for everyone to reflect on what they can do to protect themselves and the people they love from drowning.
"The blue light on landmarks tonight is significant and we thank all those organisations who are supporting World Drowning Prevention Day in this way.
"While Australia is well advanced in drowning prevention efforts, there is still much more to be done.
"If everyone did these five things, we could reduce the drowning rate in Australia dramatically: always supervise children around water; avoid alcohol around water; wear a lifejacket when boating and fishing; know the conditions; and avoid going alone."
In 2023, the 76th World Health Assembly adopted its first ever resolution on drowning prevention. The resolution accepts the invitation of the United Nations General Assembly for the World Health Organisation to coordinate actions within the United Nations system on drowning prevention and facilitate the observance of World Drowning Prevention Day on 25 July each year.
Landmarks around Australia turning blue include:
ACT – National Film and Sound Archive, John Gorton Building, Old Parliament House, The National Carillion, The Treasury Building, Questacon, Ian Potter Learning Centre.
NT – Darwin Convention Centre, City of Darwin Civic Centre, The fountain on Speaker's Green Parliament House, The Palmerston Water Tower, Recreation Centre, Library and Frances Light Pole.
QLD – Brisbane Story Bridge, Townsville Sign, Victoria Bridge, Wharton Reef Lighthouse, George Roberts Bridge, Old Magistrates Court House, Central Park Boardwalk, Little Fletcher Bridge, Tropical Dome, Wickham Terrace Car Park, City Hall, The Redcliff Place Steam Sculptures.
SA – Adelaide Oval, Adelaide Convention Centre, Adelaide Entertainment Centre, Riverbank Footbridge.
TAS – Wrest Point Hotel, Hobart Waterfront and Tasmania Bridge.
VIC – Melbourne Town Hall, Melbourne City Baths.
WA – Matagarup Bridge (the new bridge crossing to Optus Stadium), Council House, Joondalup Driver Bridge, Mount Street Bridge, Northbridge Tunnel, Sky Ribbon, Mandurah Bridge, Perth Convention and Exhibition Centre.
For more information, visit : https://www.royallifesaving.com.au/