Marine Jobs, the collective marine industry career centre is pleased to announce its participation in the upcoming Perth SkillsWest Careers and Employment Expo, to be held from 27 – 29 July 2023 at the Perth Convention and Exhibition Centre.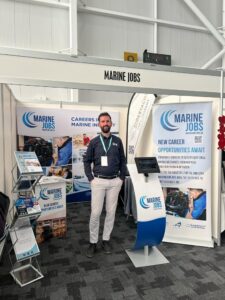 The Perth SkillsWest Careers and Employment Expo is one of Western Australia's largest career-focused events, bringing together students, job seekers and industry professionals to explore various career options.
This year, Marine Jobs will have a dedicated booth at the expo, providing an opportunity for attendees to learn about the diverse career paths available in the marine industry, from superyacht crew to exciting land-based job opportunities.
As the marine industry continues to expand and evolve, there is a growing demand for skilled professionals across various sectors, including engineering, naval architecture, shipbuilding, maritime operations, superyacht crew and more.
Visitors to the Marine Jobs booth will benefit from learning in detail about the vast array of career opportunities in this exciting industry. Marine industry professionals will be available at the booth to meet and speak with career seekers about the skills and qualifications needed to secure a job successfully. They can also assist in exploring job listings and provide clear guidance on different career pathways, plus introduce job seekers to the Marine Jobs career resources that are available online.
Marine Jobs will showcase the vast array of career opportunities in this dynamic industry, offering attendees a chance to engage with industry experts and learn more about the necessary skills and qualifications to succeed.
"We are thrilled to participate in the Perth SkillsWest Careers and Employment Expo 2023," said David Good, CEO of AIMEX, Superyacht Australia and ACMG. "Our goal is to inspire and inform individuals about the exciting and rewarding opportunities that exist within the marine industry. We look forward to showcasing the diverse range of careers available and helping attendees navigate their career pathways."
Whether attendees are recent graduates, job seekers or individuals considering a career change, the Marine Jobs booth at the Perth SkillsWest Careers and Employment Expo 2023 will provide valuable information and resources to help them make informed decisions about their future.