Volunteers from the Marine Rescue Botany Port Hacking unit have rescue two sailors on board a disabled sailing boat that was drifting out to sea off Little Bay on Saturday.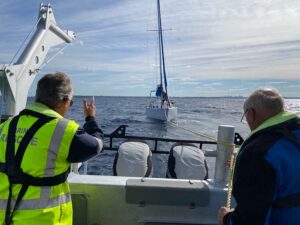 Botany Port Hacking 30 skipper Brad Whittaker said a MAYDAY call was initially received from the distressed vessel.
"As further information was received from the persons on the vessel the incident was downgraded to a Pan-Pan which means the persons on board require assistance but were not in imminent danger.
"The sailing boat had lost steering capability and with the wind and current was moving further east," Mr Whittaker said.
BH 30 was first on scene to rescue the two people who were drifting three nautical miles (5.5 km) offshore.
"Marine Rescue vessel BH 30 reached the disabled vessel and checked the welfare of the persons on board and initiated a tow," Mr Whittaker said.
"Our volunteer crew secured a tow line to the sailing boat and towed it back into Botany Bay where we were met by Marine Rescue vessel Botany Port Hacking 32 who had just completed 12 nautical mile tow of a cabin runabout which needed assistance offshore from Botany Bay.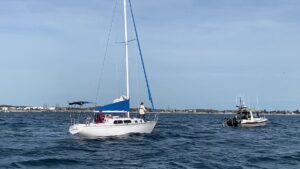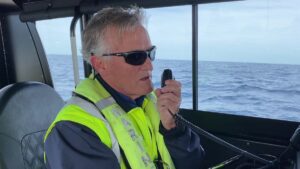 "The disabled sailing boat and persons were transferred to BH 32 who completed the tow to a Water Police emergency mooring and returned the people safely to shore.
"Both Botany Port Hacking crews and Marine Rescue NSW radio operators from the Solander and State Communications Centre at Belrose worked seamlessly together to ensure a swift and safe rescue.
"We encourage all boaters to Log On and Log Off with Marine Rescue NSW either via VHF Channel 16 or the free Marine Rescue app," Mr Whittaker said.
Marine Rescue NSW is a volunteer based not-for-profit professional organisation dedicated to keeping boaters safe on the water and supporting local communities.
For more information visit www.marinerescuensw.com.au
To keep up to date with all marine industry news visit www.marinebusinessnews.com.au