Winter Whiting Biting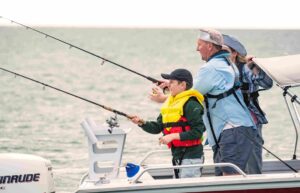 Are you heading out to catch some winter whiting? The western coast of the Eyre Peninsula between Elliston and Ceduna is a popular destination for winter whiting fishing. If you plan to go fishing along this remote coastline, make sure you have all your safety equipment on board and that it is working and not expired. Before heading out on the water check the latest weather report for the area you plan to boat in via the BOM. When out on the water it's also important to watch for signs of approaching bad weather, including wind, swell and the build-up of cloud formations. If the weather changes, consider heading back home early or find somewhere safe to shelter.
If you are heading out more than 3 nautical miles (approximately 5.5 km) from the coastline you must carry a registered Electronic Positioning Indicating Radio Beacon (EPIRB). In an emergency you should always first try to communicate using a mobile phone, marine radio or flare. Be prepared to activate your EPIRB when all other communication methods are unsuccessful or there is a threat of grave and imminent danger. Once activated it can help search and rescue authorities locate you as it emits a continuous distinctive radio distress signal for at least 48 hours. An EPIRB must be registered with the Australian Maritime Safety Authority (AMSA) once purchased or transferred in ownership. It is a great idea to always carry an EPIRB even if you are operating in waters closer to shore.
If you accidentally activate your EPIRB, switch it off immediately and notify the Australian Rescue Coordination Centre as soon as possible on 1800 641 792
Boat Licensing
Special Permit to operate a boat for young people
Special Permits allow children aged 12 to 15 years to operate a motorised vessel (other than a personal watercraft – commonly known as a jet ski) under modified conditions.
If you are a full Boat Licence holder and you just want to give someone aged 12 to 15 years of age practice in operating your boat, they don't need to get a Special Permit. They can practice with a full Boat Licence holder supervising them, as long as the speed is kept under 10 knots. Remember only full Boat Licence holders can operate a personal watercraft
Special Permit to operate with a full Boat Licence holder (no practical test required):
The most common type of Special Permit is operating when under the supervision of a full boat licence holder. It is similar to being on your 'L' plates with your driver's licence and having a full licence holder with you in the car.
How to get your Special Permit (operating supervised):
Read information on the Marine Safety website and in the SA Boating Safety Handbook and practice for the test here.
Book in a Special Permit theory examination at a Service SA Centre.
Take the Special Permit theory examination which consists of a series of multiple-choice questions.
The Special Permit (operating supervised) is valid until you turn 16 years of age and allows you to:
Operate any vessel (other than a personal watercraft) under the direct supervision of a person who holds a boat operator's licence or a temporary boat operator's licence.
Act as an observer when a person is being towed by a vessel, provided the operator of the vessel holds a boat operator's licence or a temporary boat operator's licence and is at least 18 years of age.
When you turn 16 years of age, you can then complete a Boat Licence theory examination at a Service SA Centre to gain your full Boat Licence.
Special Permit to operate solo (practical test required)
12 to 15 year olds can elect to complete a Special Permit practical examination if they would like to operate solo in vessels under 4 metres in length and with an engine that has a maximum speed of 10 knots. This is similar to gaining your 'P' plates when driving a car and being able to drive solo with certain restrictions.
How to get your Special Permit (operating unsupervised):
Complete the steps to gain your Special Permit to operate supervised (this involves practicing for and passing a Special Permit theory examination).
Get some practice in under the supervision of a full boat licence holder and make sure you know what is required here.
Book in a Special Permit practical test with a Marine Safety Officer by contacting . You are required to organise your own vessel to undertake the Special Permit practical test in which must meet the following requirements:
registered and equipped with the required safety equipment
less than 4 metres in length
cannot be capable of travelling over 10 knots in speed (vessels that have a motor that is 10 horsepower and under generally meet this requirement).
The Special Permit (operating unsupervised) is valid until you turn 16 years of age and allows you to:
Operate as per the conditions of the Special Permit (operating supervised) and,
Operate solo in a vessel less than 4 metres in length that cannot go faster than 10 knots (10 knots is the maximum speed allowed).
When you turn 16 years of age, you can then complete a Boat Licence theory examination at a Service SA Centre to gain your full Boat Licence.
For further information on Special Permits visit SA.GOV.AU – Apply for a special permit.
Trip Preparation
Is your lifejacket up to standard?
A recent Marine Safety check of a vessel on the River Murray found a lifejacket that was 41 years old being worn by a boater. It is likely that this lifejacket was filled with Kapok, a cotton like substance, that loses buoyancy over time and starts to take on water when wet making it heavier — a dangerous combination when boating.
It is recommended that all lifejackets are checked for wear and tear and replaced at least every 10 years. If they are damaged, they should be replaced sooner. Remember, all inflatable lifejackets must be serviced in line with manufacturer's instructions, generally once a year. Find an inflatable lifejacket servicing agent near you or learn more about looking after your lifejacket and servicing tips.
From 1 January 2025, lifejackets that meet older Australian Standards (AS 1512, AS 1499 and AS 2260) will no longer be acceptable to use in South Australia. Lifejackets showing these older standards are more than 10 years old and should be replaced. Look for lifejackets showing AS 4758 which meet the current Australian Standard.
Personal Location Beacons (PLB's)
Personal Location Beacons (PLB's) are a great piece of safety equipment to attach on your lifejacket or clothing, particularly if you are boating or paddling solo. If you are unlucky enough to fall overboard and get carried away from your vessel, you can activate your PLB and it will transmit a signal to help alert authorities to your location and aid in rescue.
Please note, PLB's do not replace the requirement to carry an EPIRB if operating in waters further than 3 nautical miles from the coastline.
Always attempt communication using mobile phone, marine radio or flares before using your PLB or EPIRB.
Do you have paddles on board?
Paddles and oars are a vital piece of safety equipment if your motorboat breaks down. If you are close enough to shore they can be used to paddle to safety if you can't alert anyone that you need assistance.
Marine Safety Officers check that skippers of motorboats have paddles on board as part of vessel safety checks and it is common for them to be missing from safety kits. They are required to be carried in motorboats 6 metres and under, unless you have an alternative means of propulsion on board such as a sail or second motor. If you don't have a secondary means of propulsion, then paddles must be carried. Don't forget to pack them.
Find out exactly what you need for your vessel with Marine Safety SA safety equipment online tool.
Safe Operation
Keep clear and do not touch marine mammals
With the winter whale watching season in full swing, it's important that you familiarise yourself with boating rules to operate safely near marine mammals.
All marine mammals including whales, seals, sea lions and dolphins are protected in South Australian waters and any person causing harm to a marine mammal can expect a heavy fine.
National Parks and Wildlife legislation specifies minimum allowable distances from whales and dolphins for various types of boats and other water users (see image above). Make sure you know what distance you need to maintain in your vessel to protect wildlife. The Adelaide Dolphin Sanctuary, located mainly within the Port Adelaide River is a marine park where dolphins are commonly spotted. Make sure you follow the minimum allowable distances if operating vessels in this park and follow speed restrictions that are in place and signposted.
Members of the public can report vessels operating unsafely or harassing marine mammals via the marine safety concern online tool.
Please provide as much detail as possible including vessel registration details, nature of the incident, identity or description of people involved (if any). Please provide photo / video evidence if available.
National Parks and Wildlife advice for stranded marine mammals
If you are out on the water or visiting SA beaches, do not approach or touch stranded marine mammals including whales, dolphins, seals and sea lions.  Instead contact the National Parks and Wildlife Service for advice.
It's important to remember the following advice if you see a stranded marine mammal:
Do not try and help put stranded mammals back in the water. It may not be in the best interest of the animal, or the person trying to help.
Marine mammals can carry infectious diseases that can pass between themselves, humans, and their pets. They can spread to humans and pets by direct contact with the marine mammal or it's bodily fluids – and can even disperse through the air when the animal breathes.
It is essential to wear protective clothing when near marine mammals – whether dead or alive. Protective clothing includes gloves, face masks, eye and skin protection.
It is common for healthy seals and sea lions to come ashore, and people are asked to not approach the animals and to admire them from a safe distance. Seals and sea lions may bite and can inflict serious wounds which have a high potential for infection. If you are near a seal or sea lion, do not stand between the animal and the water.
Marine mammal regulations are in place to protect these animals from disturbance and to prevent humans from being harmed by sometimes scared and aggressive animals.
Did you know?
Navigation lights required between sunset and sunrise
Vessels operating at night must show navigation lights between sunset and sunrise. Navigation lights indicate:
presence of a vessel
approximate direction of travel
type of vessel i.e. – power-driven or sailing.
Requirements for vessels:
Vessel length under 7 metres and less than 7 knots:
Must exhibit a white all round (360 degree) light and, if possible separate or combined sidelights.
Vessels under 12 metres:
Separate or combined sidelights, a masthead light and a stern light, or
Separate or combined sidelights and an all-round white light.
The masthead or white all-round light must be a minimum of one metre above the sidelights.
Vessels 12 metres to 20 metres:
A masthead light, separate sidelights and stern light, or
A masthead light, combined sidelights and stern light.
The masthead light shall be at least 2.5 metres above the gunwale. Combined sidelights shall be at least one metre below the masthead light.
For more information about navigational lights click here.
Not all marine hazards are marked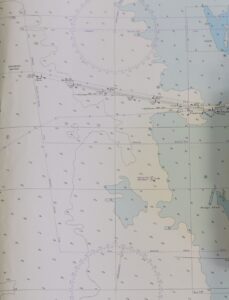 Marine hazards such as reefs and rocks are often marked by navigational markers to alert boaters to their presence, however not all hazards are marked on a navigational chart.
If you are planning to navigate in an area you don't know well, it's always a good idea to check local charts of the area which mark out other less obvious hazards. While these charts are mainly used by larger vessels and ships to navigate safely, all boaters can access them via local ship chandlers, boat book suppliers and online stores.
Remember, always proceed with caution and travel at a safe speed.
No anchoring in the channel to fish
Did you know that it is an offence to anchor in a channel? Many boaters know this is the case in channels that are used for large ships such as cargo carriers, but the same rules apply in all channels.
Channels are like the freeways of the water and are in place to provide safe navigation out to open water and back to shore. If you plan to fish, find a safe spot to anchor outside of the channel.
Before heading out you can refresh your knowledge.
Video of the Month
Can you access your safety gear in 30 seconds
The Department of Transport in WA have a great marine safety video to help skippers and passengers prepare to respond to an emergency while on board a vessel.
The 30 Second Challenge tests if you can get your flares, EPIRB, make a radio call and put on a lifejacket in 30 seconds.
Take the challenge and make sure you are prepared before heading out in SA waters.
Helpful Links
For more information visit marinesafety.sa.gov.au
To keep up to date with all marine industry news visit www.marinebusinessnews.com.au