Throughout April and May 2023, the NSW Australian Sailing Performance Pathways team facilitated three training weekends in targeted youth classes aligned to the Performance Pathway.
The key objectives of the training sessions were to support the retention and development of young sailors, enhance the pathway visibility, support and develop coaches within the NSW network, generate exposure to squad environments and strengthen and support the female classes.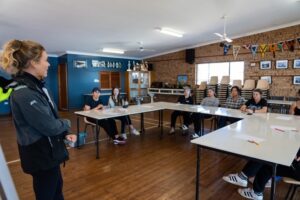 In addition to the NSW Performance Pathways coaching team of Haylee Outteridge, Traks Gordon and Tom Squires, nine club coaches were involved over the three weekends, collaborating, and problem-solving common challenges shared within the coaching community. Coach development support included on-water shadowing, facilitated coach briefings and de-briefings, shared resources and the support of two Australian Sailing #NextLevel coaches.
"It's important we create space for authentic feedback and enable the next generation of female sailors to share their challenges firsthand," said Haylee Outteridge, Australian Sailing's State Performance Pathway Manager NSW.
"Our intention is to build an ongoing dialogue to ensure we can effectively problem solve and support the development of female sailors (in the Performance Pathways)."
Australian Sailing Team & NSWIS Dietician, Samantha Lewis, delivered insightful information to the coaches and sailors around body composition, body image and navigating the demands and transitions within the sport of sailing.
Olympic silver medallist and Australia SailGP Team sailor, Nina Curtis, shared her experience on transferring classes at a youth, Olympic and professional level. Nina's stories and personal journey highlighted common opportunities and decisions young sailors face and effective ways to navigate the pathways. #NextLevel coach, Jaime Swavley reflected on Nina's presentation, "It's not about what you want to do, but rather who you want to be".
| | |
| --- | --- |
| Training Weekend Stats | |
| Sailors | 32 |
| Female | 13 |
| Male | 9 |
| Coaches | 9 |
| Female | 5 |
| Male | 4 |
| Classes | ILCA 6, IQFoil, 29er, 420 |
| 1-2 April | Mixed |
| 6-7 May | Mixed |
| 19-20 May | Female |
The final training weekend was targeted at our female classes only, enabling the girls to connect, share openly and gain exposure to quality coaching in smaller squads.
The NSW Pathways team and coaches were able to capture valuable feedback and insights on what attracts young girls to sailing as well as some of the current barriers and challenges they're facing.
The AS Performance Pathway team will continue to develop opportunities to support the growth and development of young sailors and coaches as part of our #NEXTGEN work in collaboration with the 'Support' and 'Grow' teams at Australian Sailing.
For more information visit www.sailing.org.au
To keep up to date with all marine industry news visit www.marinebusinessnews.com.au