The State Government will restore up to 150 metres of Carnarvon's historic One Mile Jetty for pedestrian access in a way that reflects the fabric of the original structure to celebrate its contribution to the heritage of the Gascoyne region.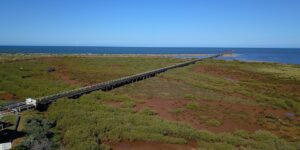 Detailed design for the restoration will commence immediately following a community workshop recently convened to consider restoration options for the remaining jetty.
Key outcomes of the workshop were the importance of interpreting the jetty's stories and a preference to maintain the heritage fabric of the structure and the need to be sympathetic to its heritage.
The Department of Transport (DoT) will lead the $4.5 million project while the Gascoyne Development Commission, working with the Carnarvon Heritage Group, will review the masterplan for the surrounding heritage precinct.
Early last year DoT completed the $4.2 million deconstruction of the intertidal and waterside portions of the jetty which were damaged during Cyclone Seroja, creating a navigation hazard.
A structural assessment of the remaining 680 metre portion of the jetty found it to be in poor condition, with a further 100 metres earmarked for deconstruction to remove any potential future navigation hazard.
Approximately 900 tonnes of timber salvaged from the jetty deconstruction has been made available for reuse in the community with some timber gifted to projects with a demonstrated community benefit. The salvaged timber will also be used for projects within the heritage precinct.
To find out more about the project visit www.transport.wa.gov.au/onemilejetty
"It's exciting that there is now a clear plan for the restoration of the jetty that will provide future access for the community and preserve the memory of this coastal infrastructure icon.
"In the design and implementation stages of the project, DoT will continue to work with the Carnarvon Heritage Group, the GDC and the Shire of Carnarvon to ensure the restoration meets community expectations." Said Minister Assisting the Transport Minister David Michael.
"This is an opportunity to honour One Mile Jetty and provide a lasting legacy for future generations.
"The restored jetty will be the centrepiece of the planned heritage precinct upgrades that will provide locals and those visiting Carnarvon with an interpretive experience, giving an insight to the region's unique history.
"Congratulations to the Carnarvon Heritage Group for all the great work they have done to support this important project." Said Regional Development Minister Don Punch.
To keep up to date with all marine industry news visit www.marinebusinessnews.com.au