The Boating Industry Association (BIA) has released the State of the Industry data report revealing national turnover at $9.64 billion for 2022-23.
BIA President Andrew Fielding launched the report on day one of the Sydney International Boat Show in Darling Harbour.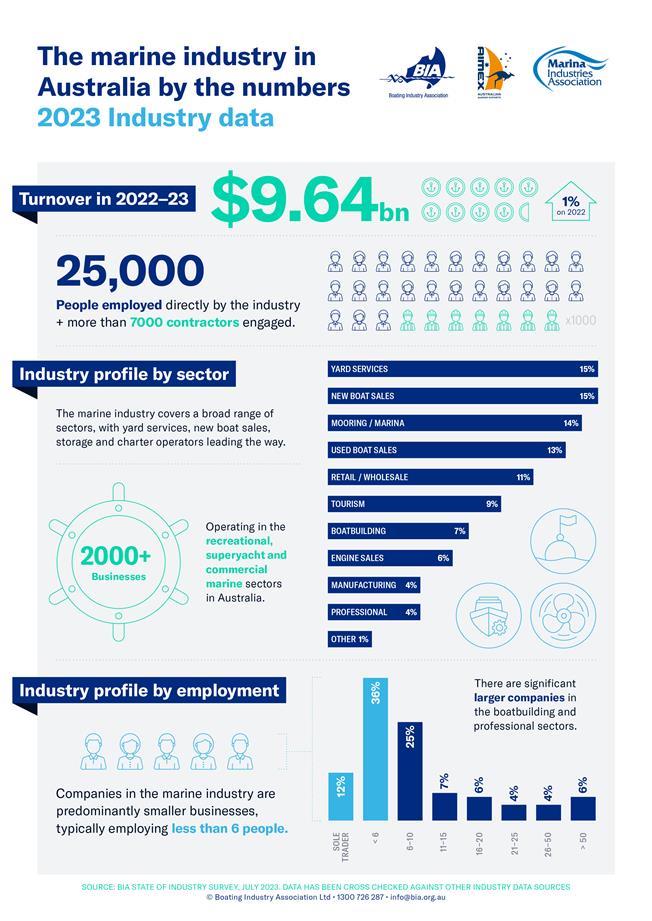 "Our industry has seen significant growth over the last six years, with turnover up by 16 per cent over that time" Fielding said.
"With more than 25,000 people directly employed in the boating industry and many thousands more contractors supporting more than 2000 businesses across the nation, the boating industry continues to be a significant industry sector. Close to seventy-five per cent are in small, family businesses, employing local workers and supporting local communities."
The boating industry includes boat builders, retailers, marinas and boat storage operators, tourism and training providers, representing a wide range of local and global brands and providing services to a growing boating community.
Australia has more than 2.5 million people with a licence to drive a powerboat and close to 1 million registered vessels and a countless number of non-motorised craft (such as small paddle and sail craft) which do not require registration or licensing.
Key statistics from the data report card is as follows:
1 in 10 Australians have a boat licence
905,000 registered boats
95,000+ personal watercraft registered
15,000+ new registrations over the year
85% of boats are under 6m
75% of the fleet is less than 10 years old
62% of boats are aluminium
33% of boats are fibreglass
The boating industry data report card includes input from the Australian International Marine Export Group, Marina Industries Association and BIA along with data intelligence from Australia's boating app Deckee.
Report available in RESOURCES or click here to read report