The Boating Industry Association Ltd (BIA) has announced GoBoat as winner of the inaugural Sustainability in Boating Industry Award for 2023 at the Opening of the 54th Sydney International Boat Show in Darling Harbour.
BIA President Andrew Fielding said the award was introduced to recognise outstanding efforts by businesses promoting sustainable practices and supporting environmental responsibility within the boating industry.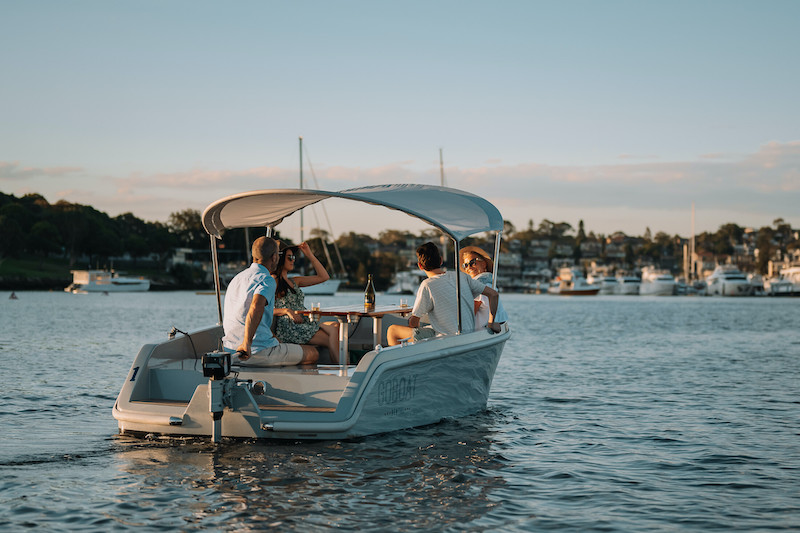 "The judging panel faced tough competition with a healthy number of submissions, showcasing the industry's growing interest and commitment to sustainability," Fielding said.
"It was good to see so many submissions in the award's first year and the fantastic variety of activity and initiatives that are taking place across the various sectors within our industry."
GoBoat is a leading electric boating brand in Australia and stood out as the deserving winner of the award. Their dedication to sustainability is evident across all aspects of their operations from design and construction, to 100% electric propulsion solutions and activation as hire and drive.
The hire and drive operation is attracting a youthful demographic who are sustainability savvy and keen to try new experiences in boats that are modern in concept, quite and clean, and operate at lower speeds that support safety and negate the need for a licence.
GoBoat takes pride in sourcing recycled timber and plastic bottles for use in the construction of their boats, saving the equivalent of more than 18,000 bottles from ending up in landfill or waterways. The use of zero-emission electric motors have so far achieved a reduction of over 1000 tonnes of CO2 and other emissions.
In 2022 they made the strategic decision to shift from overseas to domestic production, in an effort to reduce emissions from long-haul transport.
The company also takes proactive measures to minimise waste and pollution throughout its production and operations, whilst also coordinating waterway clean-up initiatives. GoBoat have active waste reduction practices in place at all their locations across the country, including implementing paperless check-ins, waivers, and strategically placed recycling bins.
"We're thrilled to be the inaugural winner of the Sustainability Award. Our team considers the environment in everything we do – from boat production to propulsion and from paperless operations to solar generation. It's fantastic to be recognised, but we will keep innovating to continue leading the industry in this area" said Nick Tyrrell, Founder and MD GoBoat Australia.
A runner up to GoBoat, Sail Exchange is deserving of a special mention for its outstanding contribution to sustainability. Sail Exchange's commitment to recycling and repurposing used sails has saved over 35 tonnes of non-biodegradable material from ending up in landfills each year. Their partnership with Sustainable Sailing has paved the way for innovative sail cloth recycling, ensuring a greener future for the industry.
The Sustainability in the Boating Industry Award aligns with the BIA Strategic Business Plan, aiming to create a vibrant industry that promotes boating as a sustainable leisure activity for all. The award recognises those who have gone above and beyond in adopting sustainable business practices and preserving the sustainability of boating.
For more information on BIA go to: bia.org.au