Magic fast sailing at Hamilton Island Race Week on Penultimate Day – 25 August 2023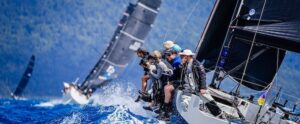 Hamilton Island Race Week's 60-foot multihull behemoth Rex came close to their top speed on the penultimate day, hitting 37.8 knots of boat speed in the fresh south-easterlies.
"Magic fast sailing," said Rex skipper Dale Mitchell. "Our top speed with this boat is just shy of 40 knots, which probably looks quite radical off the boat but it's very controllable. Anything over 30 knots [of boat speed] and Rex is responsive and quite stable on the helm. And we don't notice the chop – the foil smooth outs the ocean."
Humpback whales and their playful calves aren't fussed by the breeze and have been spotted on multiple courses across the week, including today in Whitsunday Passage.
Multihull Division
Trade winds up to 26 knots tested boats and crews and there were several breakages, retirements and even one capsize in Dent Passage – the tiny blue Sydney sports boat Barely Legal.
The Rating and Hamilton Island Blue divisions rolled off the Hamilton Island Yacht Club start line while at the Eastern start, one metre swells and 18 knots of breeze set the scene for the remaining Hamilton Island and the trailable divisions.
Michel Van Der Zwaard's Queensland Extreme 40 Angus retired with damage. Some of the crew headed to Airlie Beach to repair the carbon boom while the remainder were installing a new hydraulic panel.
"The almighty Rex is really dialled in this year," Van Der Zwaard acknowledged. "They are awesome to watch, and we can't beat them on handicap anymore."
Multihull Black Division's clubhouse leader is Stuart Cox's Stealth 12.7 Cut Snake and Multihull White's is Stephen Leonard's Sea Dragon.
Rating Class
Ray Roberts is a multi-Race Week divisional trophy winner and usually has space to breathe at this stage of the Rating Division 4 pointscore. David Cross' Cape 31 Kukukerchu is pressing on Roberts' defending champion Team Hollywood, a Botin 40 out of Sydney, the pair now a point apart with one race to go.
Duncan Hine's RP66 Alive, a former Rolex Sydney Hobart overall winner representing the Derwent Sailing Squadron in Tasmania, is untouchable in Rating Class Division 1. The top-grade crew line-up, which includes international sailors Chris Nicholson, Adrienne Cahalan, Darren Jones, Alex Gough and Stu Bannatyne, have consistently outsailed their peers on corrected time.
Wild Oats retired from today's island course due to gear damage and Andoo Comanche was unable to start and has retired from the regatta following gear damage yesterday. We wish both teams a speedy return to sailing.
Hamilton Island divisions
Geelong has a proud sailing heritage and is well-represented at Hamilton Island Race Week. Cam Rae's Thompson 30 Barracuda was trucked north across two state borders to contest Hamilton Island Purple Division and the Geelong crew have a final shot tomorrow to secure a placing. Rick Billson's Impulse X is the lead boat in this division.
Click here to view the race week highlights!
2023 Hamilton Island Race Week does not disappoint – 24 August 2023
After returning to the world stage in 2022, the 2023 Hamilton Island Race week is as popular as ever.
Nautilus Marine Insurance is once again a proud partner of Hamilton Island Race Week and the team is on the island for the week both in support of the competitors and the event, and as sailors themselves.
The 2023 Race Week was officially opened at the Nautilus Marine Insurance Yacht Owners and Skippers Cocktail Party on Saturday evening. Then Tuesday was an extra special day of competition with the Nautilus Marine Insurance Classic Extra Long Race, the Nautilus Marine Insurance Classic Long Race, and the Nautilus Marine Insurance Classic Medium Distance Race.
Winner of IRC Division 3 in the Nautilus Marine Insurance Classic Medium Distance Race was the 33ft The Red Boat. The Red Boat, an Adams 10, lives at Airlie Beach but is crewed by a group of friends from Cronulla Sailing Club and Royal Motor Yacht Club Port Hacking in Sydney's South. Skipper Jared Macquart is well known as the owner of Macquart Marine and was very pleased with Tuesday's results. "Hamilton Island Race Week is a must do regatta, very well organised. I've been here five times now" he said. "We had so much fun last year taking a fourth place, we figured it would be great to come back and have another crack at it!"
Finishing with a third place in IRC Division 2 on Tuesday's Nautilus Marine Insurance Classic Long Race was the only Queensland TP52 entry, Maritimo 11, owned by Bill Barry-Cotter. The other five TP52s are from the Cruising Yacht Club of Australia in Sydney, and Maritimo's podium on Tuesday has them placed second overall.
"Hamilton Island Race Week is just one of the great yachting events in Australia and the world, so it's just fantastic for everyone to do it whenever you can" said Kendal Barry-Cotter, Bill's brother. "This week we're hoping for a little more performance and a little more learning, it's a fairly new boat to us so we're always trying to get better."
Skipper of Maritimo 11, Michael Spies, is also always pleased to be at Race Week. "It is a special place. I've been fortunate to sail all around the world and here we have the privilege of sailing around what I believe are some of the best islands in the world.
The backdrop, the camaraderie, the competition, the fact it's been running for nearly 40 years now, the event is certainly etched in Australian yachting history."
Nautilus Marine Insurance CEO Lyndon Turner is attending the regatta and hosted the opening night owners and skippers cocktail party, and the prize giving for the Tuesday races. "Hamilton Island Race Week never fails to impress. World class racing and world class entertainment in one of the most perfect locations for anyone who loves sailing. It is such a pleasure to be involved and to use this opportunity to meet and support so many people" he said.
The whole Nautilus Marine Insurance team are pleased to once again be a supporter of Hamilton Island Race Week. Being a major sponsor of such an event is integral to our underlying philosophy of supporting sailors all over Australia.
Field of Opportunities in Nautilus Marine Insurance Classic Races – 22nd August 2023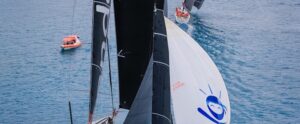 Day three of Hamilton Island Race Week 2023 saw a challenging day for the Nautilus Marine Insurance Classic Races. The hard-working Race Committee scheduled shorter courses given the lighter breeze forecast. The variable conditions that eventuated across the racetracks made it vital to seize any tactical opportunities on offer.
"Even days with less breeze provide a field of opportunities when you have a smart crew keen to look out of the boat," - Olympic supercoach Victor Kovalenko, strategist on Marcus Blackmore's RP52cr Ammonite, sailing in Hamilton Island Blue division.
All fleets started in front of the Hamilton Island Yacht Club from Dent Passage, giving spectators a colourful display when spinnakers were hoisted as the boats hit the start line. Margins were tight as the divisions raced, the gains from tides and wind shifts and shadows producing almost instant advantage for some crews, while others could do nothing as their lead evaporated.
One of the standouts of the day was Darryn Purdy's Marten 49 Indigo II, its new crew taking a fourth place in Hamilton Island Pink division, bettering their previous day's results. Sailing master Stacey Jackson said pre-race this was their Race Week goal.
"It's a relatively new team; they have owned the boat for less than a year now and I've joined them as sailing master for their first regatta. This means a bit of tactics, some key navigation around the racetrack and helping with overall coaching. It's all about adding the bits that we worked on the day before, to keep improving.
"Our expectations are to go out, have fun and improve our performance each day, and we have already ticked that box. We are here to do well – but most importantly to enjoy our sailing.
"We have a longer island course today, which is amazing – hopefully with less whales than yesterday! We had a port-starboard and we were definitely on port!
"There's a cool little fleet in the 40-42-foot competition, Farr 40s and the Welbourne 40 Wedgetail, also from Brisbane, and Zoe as always good competition.
"And eyes out the boat always. Most of us are not exposed to these tides and currents so it is about refreshing the memory bank, appreciating back-eddies, and looking at the water as well as the digital information. Even coming into Dent Passage for the finish there are two big back-eddies that feature strongly, with up to three knots of current – so cutting the corner is not always the best answer!" Jackson added.
The spirit of Hamilton Island Race Week is family and friendship. Three young sailors, Pippa, Matt and Ben, whose racing plans were derailed on their delivery north on Masala, have embraced this as they 'hitchhike' their way through the week – holding signs for anyone "looking 4 crew", with promises of beer for a ride.
The locals even joined in on the camaraderie, as a whale and her calf greeted crews as they crossed the finish line.
With a lay day tomorrow, the close to 2,000 sailors will have a break from competition to continue enjoying the beautiful Whitsunday surrounds, island festivities, and fun.
Tricks of the Tide Takes Teams to the Top at Hamilton Island Race Week 2023 – 21st August 2023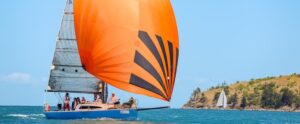 Yesterday's opening day reminded all sailors of the challenges of the tides here – meaning if they are not working for you, they are strongly against you. As little as fifty metres can make the difference between a distinct advantage or disadvantage compared to those around you.
After their opening day's victory, Adrienne Cahalan, navigator onboard the RP 66 ALIVE explained:
"We have a really nice blend of talent and youth here, we have Chris Nicholson and Stu Bannatyne, Jason Boyd, plus young guys onboard and they bring energy and enthusiasm. One thing I am noticing is all the young girls and boys coming through – they are all very much up to speed, coming through the dinghy programs and so they hit the ground running.
"With yesterday's race we had a great example of some tidal gates – the start still had some outgoing tide, plus a tide change at Dent Island also helped us.
"Sometimes tides go early or late! So you have to keep your eye out of the boat and get any indication in terms of buoys and marks to help gauge the tide and current – it is quite the phenomenon up here in the Whitsundays, where so much of the racing outcome is based on the tides."
All this meant day two of Hamilton Island Race Week focused the minds of tacticians and navigators alike, to get the best outcome from the SE 12-15 knot conditions. All fleets had a downwind start in Dent passage, for a mixture of courses ranging from 14 nautical miles for non-spinnaker to 30 nautical miles for the larger rating divisions.
In Rating Division One the line honours battle was narrowly taken out by Andoo Comanche, just edging out Hamilton Island Wild Oats by 23 seconds following a 30 nautical mile course. Hamilton Island Wild Oats led right around Dent Island after winning the match racing start, and then continued to chase Andoo Comanche down after Lindeman Island.
"A great start for us, we got off the line well and evenly accelerated away from them, managing to get out of Dent Passage in one gybe that helped a lot and gave us a good set up onto our J2" - Chris Links, from Hamilton Island Wild Oats
"They had issues with their furling gear and that slowed them up. After a drag race to the exclusion zone they sat on our stern and ducked us there.
"We stayed close though, and gave ourselves a good shot – but they held on well coming down Dent Passage for a win – but boy it was close, giving us the win on handicap by I think 11 minutes."
Crews are now looking to tomorrow's Nautilus Classic Race with forecast conditions predicted to be more challenging, meaning navigators and strategists will be looking for even the smallest gains to give their boat the edge over the fleet. With all divisions starting from Dent Passage, the Classic Race is one of the most impressive annual spectacles of Hamilton Island Race Week.
Click here to view Day 1 Highlights!
Perfect Opening Day at Hamilton Island Race Week – 20th August 2023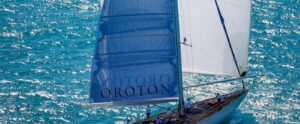 Hamilton Island Race Week 2023 got underway in stunning conditions, with sunshine and a south-easterly breeze of 18-22 knots for the fleet of close to 180.
The thirteen divisions were split over two start areas, Eastern and Dent Passage. In the prestigious Rating Division 1, John Winning Jr's 100-foot Andoo Comanche took bragging rights on day-one. It was a tight race, with the Oatley family's same-sized maxi Hamilton Island Wild Oats XI less than four minutes behind. Duncan Hine's RP66 Alive leads on handicap, with an impressive opening race.
One of the smaller boats in the fleet, in the trailable yachts division, Barely Legal was the fastest boat in all divisions and the first boat home with a time of 1hr 18 minutes.
"Today was just a good solid win, and a really bumpy seaway for this size boat, but reaching and up-wind it was just a pleasure. A tough pleasure, but a pleasure!" said Andrew Buckland on Barely Legal.
In the Multihull Black Division, the high-performance multihulls, it was Dale Mitchell's Rex that charged home in a time of 1:39:41, followed by the Extreme 40 Angus, skippered by Michael Van Der Zwaard. Given the trade wind forecast, the Rex – Angus battle promises to bring plenty of tight, high-speed action throughout the week.
Today's racing followed the stunning opening night's celebration, which included a heartfelt welcome from Sandy Oatley, opening the event to a backdrop of fireworks, live music and plenty of catching up between sailors.
The starts were a testament to the Race Committee's expertise, with all races getting away cleanly and on time. Regatta Director Denis Thompson was delighted with the day.
"Today was a perfect sailing day. The breeze averaged 18-20 knots and we had sunny skies, so a good start to the series, and we expect the rest of the week to be similar. It's a great event and will be a spectacular regatta with lots of boats rushing around the Whitsundays flying spinnakers, in turquoise waters, with trade winds and whales with their young nearby – everything is perfect," - Regatta Director Denis Thompson
The 2023 fleet features a cross section of boats from every Australian state, and five international yachts from New Zealand and New Caledonia. Close to 180 yachts and over 2,000 sailors from around the country and the world, who put on a sensational opening display for those spectating from the Bommie Deck at Hamilton Island Yacht Club.
Click here to view the Race Results!
Hamilton Island Celebrates Significant Milestone – 18th August 2023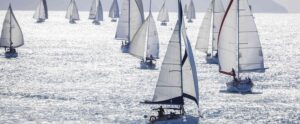 Australia's internationally renowned Hamilton Island Race Week gets underway Saturday evening with the traditional skipper's sunset welcome party before racing commences Sunday August 20.
A forecast of consistent southeast trade winds building to 20 knots by Thursday is the perfect gift for close to 2,000 sailors crewing around 180 yachts, multihulls and trailables representing every Australian state as well as four Kiwi yachts and one from New Caledonia.
This edition celebrates a significant Hamilton Island milestone – 20 years since the Oatley family acquired the largest of the Whitsundays 74-island archipelago and gateway to the Great Barrier Reef.
"In 2003, the Oatley family purchased Hamilton Island and since then it has benefited from many spectacular additions, turning it into the world-class Australian holiday destination it is today," - Island CEO Pete Brulisauer
As guests arrive from around the country and overseas, the race management team and island event team are confident of delivering another exceptional regatta experience, even for non-sailors.
All divisions – from 100-foot maxis in the Rating Class to tiny trailables – will compete in the six-day series with Wednesday August 23 the scheduled lay day and mid-way point. It's a day to rest and repair boats and bodies before crews knuckle down for the second half and last push to join an esteemed list of Race Week winners.
Matched to perfect outdoor winter conditions is an exciting new onshore festival of food, wine and daily entertainment for sailors and their guests including the House of Friends Fiesta by Casamigos Tequila (a new addition), and signature events like the Paspaley Luncheon and dinner with acclaimed French chef Guillaume Brahimi at qualia.
"We've worked hard in the planning phase and we're excited to welcome everyone to Hamilton Island for what will be another unforgettable Race Week," Brulisauer said.
Click here to view the List of Entrants!
About Hamilton Island Race Week
Hamilton Island Race Week is one of Australia's favourite yachting events and a firm fixture on the international sailing calendar. Every August, spectators and sailors from around the globe sail to Hamilton Island in the Great Barrier Reef for what is recognised as Australia's premier offshore keelboat regatta. The fleet for this year's race is at capacity and sailors from around the country and overseas are enjoying every moment of the event.
The 38th edition of Hamilton Island Race Week is being staged from August 19-26, when close to 200 boats and around 2000 sailors, their family and friends, will gather at the jewel of the Whitsundays and enjoy the convivial atmosphere and unique camaraderie of the on-water and on-shore carnival.
For more information visit www.hamiltonislandraceweek.com.au
To keep up to date with all marine industry news visit www.marinebusinessnews.com.au